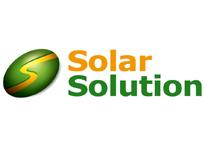 The goal of Solar Solution LLC is to provide clean, reliable and efficient energy that can help power homes and businesses while helping saving the environment for future generations. In 2013 alone, Solar Solution helped support the green economy by putting at least 5,000 Solar Renewable Energy Credits (SRECS) into circulation while saving residents $29,050 with no out of pocket cost for them, meaning more money goes into the local DC businesses and economy.
To put Solar Solution's business impact into perspective, the total carbon offset of solar systems installed in the District of Columbia is equivalent to saving 8, 496 barrels of oil, keeping 769 cars off the road or the same equivalent as 5.3 Giga Watt hours of power produced from clean, alternative energy.
Every year solar energy produced by our system is used in lieu of coal produced electricity which translates into toxic chemicals not being emitted. For the projects that we installed per year, this translates into 3,923, 879 lbs. unused coal, 102 tons of sulfur dioxide which causes crop, soil, and lung damage, and 104 tons of Nitrogen oxide, which is a major cause of acid rain.
Our staff continuously work within the community to support the DC residents while paving a way for a sunnier tomorrow. For instance, Solar Solution LLC is proud to have worked in a strategic partnership with the DCSEU and Habitat for Humanity to help bring solar to residents in ward 7 and 8. Solar Solution provided a total of 56 homes with solar systems at zero cost to the end user which has greatly helped offset each home's carbon footprint and has greatly reduced their overall energy consumption.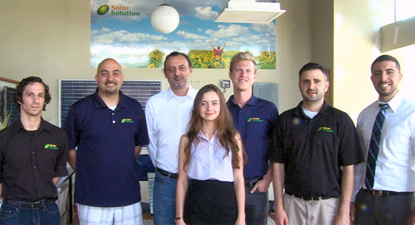 Robert Valette, Atta Kiarash, Ben Breiterman, Jaime Salazar, Yevheniya Kupchyk, JD Elkurd, Matt Herring