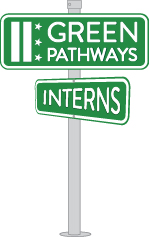 << Back to Green pathways main page
Are you interested in gaining experience in green careers?
Green Pathways Internships at DOEE are designed to provide individuals with exciting experiences in an array of energy and environmental fields, including natural resources and wildlife, water and air quality, lead, energy, sustainability, and legal services. Interns gain an understanding of the issues, work on important projects, and learn about career possibilities.
Green Pathways Internships at DOEE are currently accepting applications:
Here are a few examples DOEE interns and their experiences:
A Wildlife Management intern's responsibilities included aquatic turtle trapping, artificial cover surveys, nighttime frog call surveys, small mammal trapping, bat acoustical monitoring and mist netting, radio-telemetry surveys and other field work projects within the division.

Legal interns for the Office of the General Counsel are responsible for assisting attorneys with a variety of environmental and enforcement issues and research projects. Legal interns have the opportunity to work with many of DOEE's experts on a range of environmental and energy issues. Legal interns will help prepare policy positions, presentations, and regulations; assist in preparation of administrative petitions, litigation documents, and amicus briefs; conduct legal research on a broad range of environmental issues, and; help with management of legal projects.

A Watershed Protection intern built and updated the RiverSmart Homes database for 2009-2015, including comparing that database with the geo-referenced database. She analyzed the annual variance of Best Management Practices (BMPs), installed and calculated the total acres of land treated by RiverSmart BMPs; produced fact sheets and video scripts of homeowner installations; and helped RiverSmart Home auditors with inspections.
Spotlight: DOEE Intern Wendy Hado
While working on her Master's Degree in Environmental Health Science and Policy at George Washington University, Wendy worked with DOEE's Urban Sustainability Administration on community engagement, climate inventory, and policy development. She now works for the DC Sustainable Energy Utility (DCSEU).
If you have any questions or concerns regarding the application process please contact us at [email protected].