Sol Systems, LLC: Case Study for the 2012 Mayor's Sustainability Awards
Sol Systems is a solar energy finance and development firm that was built on the principle that solar energy should be an economically viable solution. The company was founded in 2008 when its founders, Yuri Horwitz and George Ashton, recognized a lack of awareness regarding government incentives for renewable energy and wanted to find a way to encourage the development of solar energy. A homeowner can save a substantial amount of money on their utility bills by installing a solar energy system. They can also sell the green attributes associated with their energy production in the form of solar renewable energy credits (SRECs). The average homeowner can earn between $900-1800 annually by selling SRECs, which provide a return on the investment for the system while also helping homeowners cover the initial costs of installation.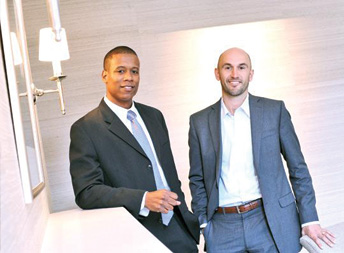 Four years after its founding, Sol Systems, with an office centrally located in Dupont Circle, is the oldest and largest SREC aggregator in the country, with almost 3,000 customers in 13 states. Sol Systems partners with hundreds of installation companies, many of which are in the District, to monetize their customers' SRECs. As of April 2012, Sol Systems has provided solar financing services to over 250 D.C. residents, totaling over 2 megawatts in capacity. In fact, over half of the people, businesses, and schools that sell their SRECs in D.C. use Sol Systems, and Sol Systems' customer base spans almost every neighborhood in the District. Moreover, Sol Systems' success is the SREC space has allowed us to diversify, and we launched SolMarket, a new financing platform for commercial and utility-scale systems, in the fall of 2011.
Community Impact
In addition to providing D.C. residents and businesses with innovative financing solutions that increase the District's solar capacity, Sol Systems also works closely with the solar community to keep D.C. as a national leader in solar development. In 2011, Sol Systems advocated for the passage of the Distributed Generation Amendment Act of 2011 alongside DC SUN, a network of neighborhood organizations interested in the passage of solar, and several other D.C. green businesses. This bill amended the District of Columbia's Renewable Energy Portfolio Act to significantly increase the demand for solar energy, while also revitalizing a plummeting SREC market. Perhaps most importantly, this legislation encourages innovative business models that will allow District residents and businesses of all economic backgrounds to adopt solar energy that will provide them with reduced energy bills over the next 30 years.
While Sol Systems operates in 13 states, D.C. now has one of the most robust SREC markets in the nation, making the city a leader in solar energy. In fact, when calculating kilowatts of solar installed per square mile, D.C. leads the nation in solar density. This is no doubt indicative of the commanding solar presence that has been steadily growing in D.C. over the last few years due to progressive legislation and an expansive SREC market. With a strong SREC market and competitive pricing options, it is likely that this trend will continue into the future.
Sol Systems' commitment to the three pillars of sustainability extends far beyond the SREC business. Some of these practices include:
Strategic Partnerships - Sol Systems believes in the strength of partnerships. We work closely with local solar cooperatives, council members, solar advocacy coalitions, energy suppliers such as PEPCO, governmental institutions such as the DDOE, local installer companies, and public utility commissions to create effective policies that promote clean energy programs.
Solar Association/Industry Involvement – Sol Systems supports both national and local solar associations such as the Solar Electric Power Association (SEPA), the national Solar Electric Industries Association (SEIA), and its local chapter, the Maryland-D.C.-Virginia (MDV SEIA), where we serve on the board of directors.
Public Transportation – Each Sol Systems employee walks, bikes, or utilizes mass transit in their daily commute.
Recycling & Waste Minimization – Sol Systems' employees make every effort to reduce waste created by the company. We also have a paper, plastic, and aluminum recycling program.
Green Power – Sol Systems runs its company on wind powered energy from another local green business, Clean Currents.
Energy Conservation – Sol Systems employees are conscious of personal and company energy use and utilize daylighting to minimize electricity consumption.
As a company, we believe in sustainability as both a cause and a business model. Our objective is not to secure large profit margins, but rather to work with our partners to establish long-term relationships with low transaction costs to maximize the value of each SREC, with the ultimate goal of making solar more affordable.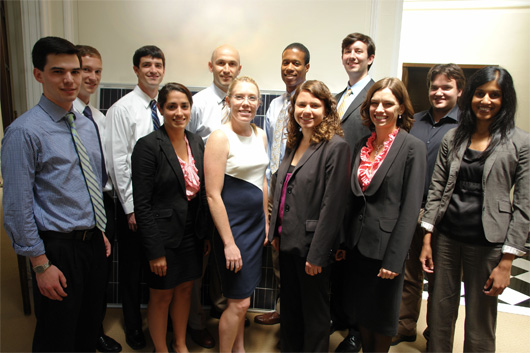 Left to Right (Men): Charlie Russell, Kevin Collins, Andrew Adelfio, Yuri Horwitz, George Ashton, Michael Gibson, Caleb Thompson
Left to Right (Women): Anna Noucas, Christine Cauley, Sara Rafalson, Natacha Kiler, Sudha Gollapudi
Not picture: Ram Dobson, Andrew Gilligan, William Graves, Jessica Robbins, Daniel Yonkin