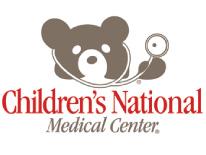 Children's National Medical Center
2013 Mayor's Sustainability Award Winner
---
At Children's National we are dedicated to providing the best pediatric care for our patients, families, and community. As part of this commitment, we are working to provide an environment that is healthy and safe for our children and employees, and ensuring its preservation for their future. By providing access to gardens and nature within our healthcare facility, we can help our patients' healing process and improve their overall experience at Children's National. From the thoughtful decision making about the way we purchase environmentally friendly products to the energy used to power our 30 locations around the beltway, we can be certain our patients are exposed to a healthy atmosphere during their visit, and that our environment is well preserved for future generations. We are committed to incorporating environmental sustainability into our daily operations now and well into the future.
Our sustainability philosophy is engrained in the culture of our organization, and spans across 30 locations and 6,500 employees.
Program Highlights:
Members from the Sustainability Committee (staff in garden)
Front Row - Michael Shaw, Justin Conrad, Laura Parsons, Laura Cliche, Ekaterina Solovieva
2nd Row - Laura Belazis, Jennifer Littrell, Anthony Vaul, Arthur Shmidt, Roberta Alessi
Back Row - Rob Russo, Britt Kauss, Sara Beckwith, Robert Beckwith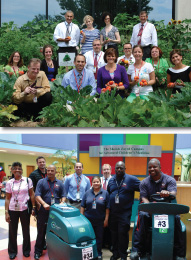 Members of the Environmental Services Department
-Linda Johnson, James Weiner, Sterling Baylor, Justin Conrad, Vilma Reyes, Anthony Vaul, Max Kra, Charles Hillie
Weekly farmer's market (Wednesdays, 1-3PM) which matches SNAP/EBT, WIC, and Senior FMNP (Up to $10 per visit).
2,500 sq. ft. vegetable garden planted by children.
Our cafeteria is committed to sourcing products that are free of artificial growth hormones and human antibiotics, and buying local products whenever possible.
Single stream recycling program to preserve natural resources.
Pharmaceutical waste program to protect our waterways and landfills.
Growing Environmentally Preferred Purchasing (EPP) Program. Initiatives include the commitment to purchase post-consumer recycled paper and sustainable ink/toner.
Use of Green Seal Certified cleaning products, as well as chemical-free floor machinery, to clean our facility without chemical exposure to patients and staff.
Installation of hydroculture plants (soil-free plant system) to safely beautify our space without risk of soil-borne bacteria and mold. We believe that the incorporation of safe plant-life improves air quality, healthcare outcomes, and patient satisfaction.
HydroBoost water bottle filling stations which help us reduce dependency on disposable plastic water bottles. A Green counter informs users of the number of plastic bottles saved from landfills.
Energy and water conservation management program led by our engineers.
The Children's National Sustainability Initiative is led by Ekaterina A. Solovieva, MHA. If you would like to learn more about our program, please reach out to Ekaterina at [email protected]