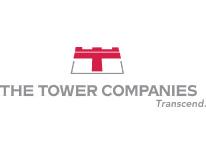 The Tower Companies
2013 Mayor's Sustainability Award Winner
---
Founded in 1947, The Tower Companies is family-owned pioneer builder and operator of USGBC LEED® certified residential and commercial properties in the National Capital Region, which uses wind power for its' energy needs and is carbon neutral. Tower is the first two-time winner of the 2013 and 2009 DC Mayor's Environmental Excellence Award. 90% of buildings that Tower owns and manages are USGBC LEED® certified including 1828 L Street NW, 1909 K Street NW, and 1707 L Street NW in Washington, D.C.
Tower is an ENERGY STAR® and Green Power Leader committed to Sustainable D.C. goals led by company owners, The Abramson Family, senior executives, Tower Green Team, building managers and engineers.
Ronald Abramson, Jeffrey Abramson, Brian Abramson, Eric Harris, Eugenia Gregorio, David Borchardt, Elizabeth Oliver-Farrow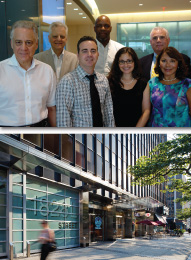 Environmental Sustainability Highlights at Tower's D.C. commercial office buildings include:
Achieved LEED® Gold at 1828 L & 1909 K and LEED® Silver 1707 L St under EBOM Rating.
Implemented Real Time Energy Management Program to reduce energy usage and to educate engineers on energy conservation best practices. Reduced energy usage at all three D.C. buildings by 17% in 2012, as compared to 2011.
NRDC Publication, BMS 2.0 A Case Study on Real Time Energy Management in Three Commercial Office Buildings in Washington, DC, will feature Tower energy savings results.
Annual Climate Registered Partner with The Climate Registry and offsets 100% of GHG inventory with purchase of wind power RECs and Carbon Offsets.
Stakeholder Engagement Highlights:
Built State-of-the-Art Fitness Centers and Bike Rooms for clients; hosted Bike to Work Day pit stops, and partnered with Big Wheel Bikes for client discounts.
Launched Sustainability Alternatives for Everyday Value (SAVE) Program to provide clients with sustainable office and personal services.
Implemented Earth Day activities to educate & stimulate client participation.
Established Building Green Teams to stimulate client-driven sustainability initiatives.
Launched a new desk-side recycling program for office building clients to increase recycling rate.
Completed transportation surveys confirming that due to client use of alternative transportation methods, the traditional (single occupant driver) commuting has been reduced by 70 to 75%.
Community Partnership Highlights:
Partnered with Casey Trees to provide volunteers and funding for tree planting and care events.
Employees and Clients participated in the 2012 and 2013 Annual Rock Creek Clean Up.
Sponsored National Building Museum's Green Schools project and adopted Shepherd Elementary School for sustainability education with NBM.
Organized employee volunteer projects for USGBC's Green Apple Day of Service in 2012 & 2013.
Partnered with Geppetto Catering, a sustainable catering company, to create an office delivery community supported agriculture (CSA) program for clients.
Partnered with Golden Triangle Rain Garden LID Demonstration Project to install four 570 SF rain gardens, designed to capture 1.3 inches of rainfall to help reduce runoff.
2000 Tower Oaks Boulevard, co-developed by Tower and Lerner Enterprises, is profiled in "The World's Greenest Buildings: Promise Versus Performance in Sustainable Design," (Routledge) by Jerry Yudelson and Ulf Meyer, who examined the highest-rated green buildings from around the world.