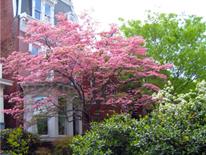 Shade Trees
Shade trees are large trees with widespread, dense canopies. A shade tree is taller than 25 feet at maturity. Commonly planted shade trees in the District include oaks, maples, ashes and elms. Shade trees are an investment in the environment, your home's future and future generations.
Trees are an important method for controlling stormwater runoff. The leaves of trees are like cups and can hold up to one-tenth of an inch of stormwater. This captured rain water is critical as a rainfall of only a half an inch can cause sewer overflows. In addition to stormwater control, trees provide many additional benefits.
How to Plant a Shade Tree
There are a few things to consider when looking to planting a shade tree in your yard. For instance, the location of utility wires (both above and buried) and the distance from objects such as your house, sidewalk, fence and other trees, must be taken into account. It is also important to consider your yard's sun exposure when planting a tree.
Benefits of Shade Trees to the Homeowner
Shade trees require minimal maintenance and provide many advantages for the homeowner. Specifically, shade trees:
Decrease heating bills up to 15 percent and cooling bills up to 50 percent
Increase property value to up to 10-20 percent
Improve health by reducing stress, asthma, and cancers caused by sun exposure
Improve neighborhood livability; a 2001 study showed apartment buildings with trees and vegetation, had more than 50 percent fewer total crimes than non-landscaped building
Provide privacy by muffling the sound from traffic, lawn mowers, and loud neighbors
Benefits of shade trees to the District
The District is promoting shade trees because they improve the health of local streams and waterways by reducing stormwater runoff and erosion. Trees also:
Improve air quality by removing small pollutant particulates (i.e. sulfur dioxide, ozone, etc.)
Reduce greenhouse gas emissions by taking up carbon dioxide
Provide habitat for beneficial plants and animals
Mitigate the urban heat-island effect by shading our homes and streets
 
Want to have shade trees planted in your property? RiverSmart Homes can help
Through a special offer from the RiverSmart Homes program, District homeowners can have shade trees planted on their property for no cost (i.e. Free!). There is no limit on the number of trees that can be planted on each property, provided space allows.
What types of trees are available through the RiverSmart Homes Program?
Tree species are native to the Chesapeake Bay region and were chosen for their environmental benefit. Some of the available trees are listed below:
Medium:
Yellowwood (Cladrastis kentukea)
Black gum/Tupelo (Nyssa sylvatica)
American Hornbeam (Carpinus caroliniana)
Honey Locust   (Gleditsia tricanthos)
Evergreen:
American Holly (Ilex opaca )
Southern Magnolia (Magnolia grandiflora)
Deodar Cedar (Cedrus deodara)
Large:
Sweetgum (Liquidambar styraciflua)
Tulip tree (Liriodendron tulipfera)
Sycamore (Platanus occidentalis)
White Oak (Quercus alba) *
Swamp White Oak (Quercus bicolor)
Red oak (Quercus rubra)*
American Basswood (Tilia Americana)
Shagbark Hickory (Carya ovata)
* Spring Planting Only
Will the RiverSmart Homes program plant street trees?
No, the RiverSmart Homes program plants trees on residential properties only. To request a street tree, please call 311 to submit a request with the Urban Forestry Administration (UFA).
Shade Tree Rebate Program
DOEE also offers the Shade Tree Rebate Program for homeowners who want to plant a tree sooner or are interested in planting a different kind of tree. Rebates are issued as a direct reimbursement to the homeowner, and rebate amounts vary ($50 or $100) depending on the species of tree planted. Species noted for their large canopy such as oaks and hickories qualify for rebates up to $100 per tree. Small and medium canopy trees are eligible for rebates for up to $50 per tree. Invasive species including Norway Maple, Tree of Heaven, Mimosa, Bradford pea, Sawtooth Oak, Ash tree, and Siberian Elm should not be planted and do not qualify for the rebate. Dwarf trees and shrubs are also ineligible. For more information, including a full list of eligible species, visit: caseytrees.org/programs/planting/rebate/
Shade Tree Maintenance
Any tree planted would need to be cared for, especially during the first two years after planting. To learn more about how to take care of your shade tree, review the "Shade Tree Care Sheet" and the "Tree Care by Season" sheets attached below and/or follow these simple suggestions:
Water trees regularly if there has not been a significant recent rainfall
Cover any bare spots around trees with mulch
Weed the garden area and around planted trees as needed (at least 4 times a year)
Prune dead branches from trees