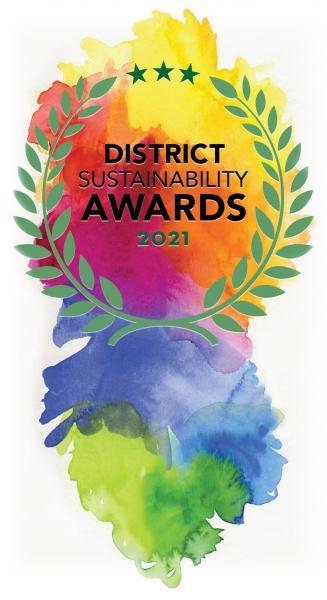 Press Release: Mayor Bowser Honors 9 DC Leaders with 2021 Sustainability Awards
"Sustainability is about balancing the environmental, economic, and social needs of the District of Columbia today as well as the needs of the next generation, and the one after that."
- Mayor Bowser
About the District's Sustainability Awards
The District Sustainability Awards highlight businesses, individuals, and organizations that are working towards a more sustainable DC. Awardees' projects and programs support the Mayor's Sustainable DC Plan, which aims to make the District the nation's greenest, healthiest, most sustainable city; it encompasses equity, governance, education, built environment, climate, economy, energy, food, nature, transportation, waste, and water.
Examples of Environmentally Sustainable Operations or Activities:
Install new equipment or develop new incentives to encourage behavior that improves energy and water efficiency in your building.
Start a comprehensive waste management program which includes recycling, composting, waste reduction, and/or donation.
Install solar panels, a green roof, rain gardens, or porous pavement at your building or as a part of your offered services.
If you are considering applying for an award base on environmental impact, we recommend that you provide available data (e.g., energy consumption, water usage, recycling, and waste reduction) for your building or office space.
Examples of Socially and Economically Sustainable Operations or Activities:
Hire people of color who represent marginalized communities or increasing the economic and social empowerment of your employees.
Provide funding to community organizations based in marginalized communities.
Create methods of decision-making that include diverse community members affected by your business, in ways that distribute power.
Tackle root problems by engaging directly-affected communities to find solutions, organize against oppression, and create mechanisms for change.
- Winning Case Studies for the 2021 Sustainability Awards Winners
- Winning Case Studies for the 2020 Sustainability Awards Winners
- Watch the 2020 Sustainability Awards!
- Winning Case Studies for the 2019 Sustainability Awards Winners
- Winning Case Studies for the 2018 Sustainability Awards Winners
For more information about the District Sustainability Awards, please contact MaryLynn Wilhere at DOEE's Urban Sustainability Administration at (202) 870-2924 or [email protected].