Cassidy Turley: Case Study for the 2012 Mayor's Sustainability Awards
Cassidy Turley is committed to ensuring sustainability initiatives have a lasting and positive impact throughout Washington, DC. As a leader in the commercial real estate industry, Cassidy Turley recognizes the importance of tailoring sustainable operations in order to reduce our environmental impact. In Washington, DC, over the past 3 years, Cassidy Turley's portfolio has grown to include 4.4 million sf of LEED certified buildings, totaling 15 buildings and they have helped to achieve ENERGY STAR® certifications for over 6 million sf, totaling over 20 buildings. Our cornerstone philosophy recognizes the importance of sustainable operations and tenant education as the keys to reducing the carbon footprint of the buildings we manage and improving both the community and environment in which we live and work. Cassidy Turley leads by example and feels that our efforts contribute substantially to the Mayor's vision to make Washington, DC the greenest, healthiest and most livable city in the nation.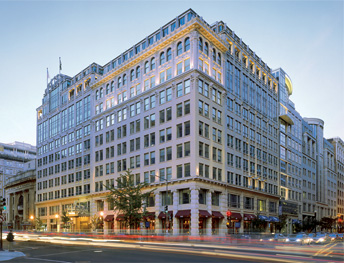 Given that commercial office buildings are the largest consumers of energy, Cassidy Turley is committed to energy efficiency and focuses on improving the quality of the built environment in order to create and promote a more sustainable community. Through the implementation of initiatives that focus on energy efficiency enhancements, greenhouse gas emissions reductions, and ongoing tracking and reporting, we ensure proper baselines and measurement across our managed portfolio. These sustainability initiatives are integrated across all service lines of the company, and impact all aspects of the real estate lifestyle.
Cassidy Turley recognizes the importance of community involvement to strengthen the impact of its sustainability accomplishments across Washington, DC. Cassidy Turley's key projects include:
Terrell Place, 575 7th Street, NW, - first LEED for Existing Buildings (LEED EB) Platinum certified Trophy class office building in Washington, DC.
World Wildlife Fund Headquarters Building, 1250 24th Street, NW - LEED EB Platinum certification, the only LEED EB 2.0 Platinum Building in Washington, DC.
PEPCO's Headquarters, 701 9th Street, NW, - first LEED EB certification under the 2008 rating system, achieving LEED EB Gold.
The Westory, 607 14th Street, NW - first multi-tenant LEED EB Recertification building in Washington, DC.
Developed a LEED EB Portfolio certification program that included the simultaneous LEED EB Silver certification of 10 Washington, DC area office buildings.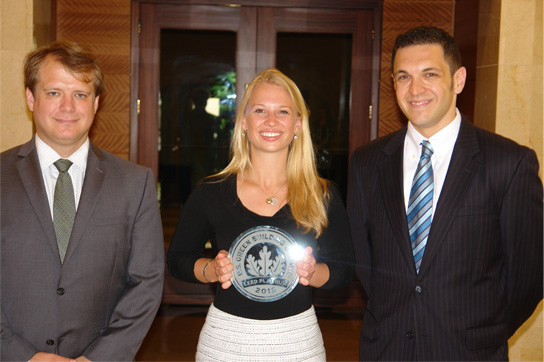 Nicole Snarski, Sustainability Project Coordinator, Michael Alexander, Sustainability Project Manager, Evan Tyroler, Vice President/Principal