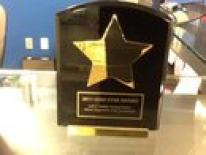 DDOE's exemplary work in reducing childhood lead poisoning and advance lead hazard control activities earned the agency the highest honors from both EPA and the Environmental Hazards Association, having accomplished 225 inspections, 75 enforcement actions, 100 NOVs and 25 Cease and Desist Orders; along with those impressive figures, DDOE reached over 3,500 people through conferences, expos, website and program calls.
Additionally, DDOE issued new Renovation, Repair and Painting Regulations (RRP) - to be issued around the 2nd week of April, enforced a $100,000 case at an apartment complex in Monroe Park, developed a central database for tracking measurements, increased the number of inspections overall, and implemented the collection and transfer of certification and accreditation fees system.
EPA has expressed its pleasure with DDOE, as it has met or exceeded all of the FY11 grant commitments, and its exemplary performance overall in the field of Lead and Lead Abatement.