<< Back to Chesapeake Bay Program main page
Overview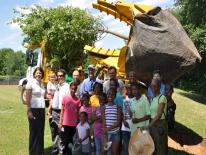 In 2008, the Chesapeake Executive Council comprised of the Mayor of the District of Columbia, the governors of the six watershed states, the Administrator of the U.S. Environmental Protection Agency (EPA), and the Chair of the Chesapeake Bay Commission directed the District and the six states to develop two-year milestones for reducing nitrogen, phosphorus, and sediment contributions to the Chesapeake Bay and for EPA to assess progress toward these short-term objectives. EPA incorporated the two-year milestones into the Chesapeake Bay Total Maximum Daily Load (Bay TMDL) accountability framework established in 2010.
View the District's 2-Year Milestones and Progress Reports:
Read EPA's evaluations of the milestone commitments.