<< Back to Stream and Habitat Restoration Main Page
Location: Alger Park in SE DC
Project Status: The Alger Park stream restoration project was completed in October 2017.
Project Overview:
Prior to restoration Alger Park was in a highly degraded state with little to no base flow, vertical stream banks over 20 ft. tall, and few areas for in-stream habitat. The watershed area that drains into Alger Park is 32 acres in total, with 32% of the area that drains into Alger Park being impervious cover. As the neighborhood developed, stormwater from roadways was directed into the park and stream valley via five stormwater outfalls. With the installation of the outfalls and increasing impervious area throughout the drainage basin, erosion rates along the stream banks continued to rise.
The stream restoration project reduced in stream bank erosion by utilizing the regenerative stream design approach to restore the incised channel. Stream restoration work at Alger Park restored 1,541 feet of stream length costing over $2,154,000. In total the project consisted of the installation of 56 riffle/cascade structures, 3,448 wetland plants, 1,160 native shrubs, 389 herbaceous native plants, 382 native trees, and 59 pounds of native seed. The project will prevent over 100,000 lbs. of sediment from being lost each year due to bank erosion and will provide valuable wetland, in-stream, and riparian habitat for native terrestrial and aquatic life within Alger Park.
Project Objectives:
Reduce streambank erosion and channel bed incision to provide long-term stream stability and downstream water quality benefits.
Restore half an acre of wetlands
Reduce stormwater volume and velocity entering the stream channel
Improve in-stream and riparian habitat conditions
The District has contracted with LimnoTech for 30% Designs, Biohabitats or 100% Designs, and Environmental Quality Resources for the construction of the restoration work.
Project Area Map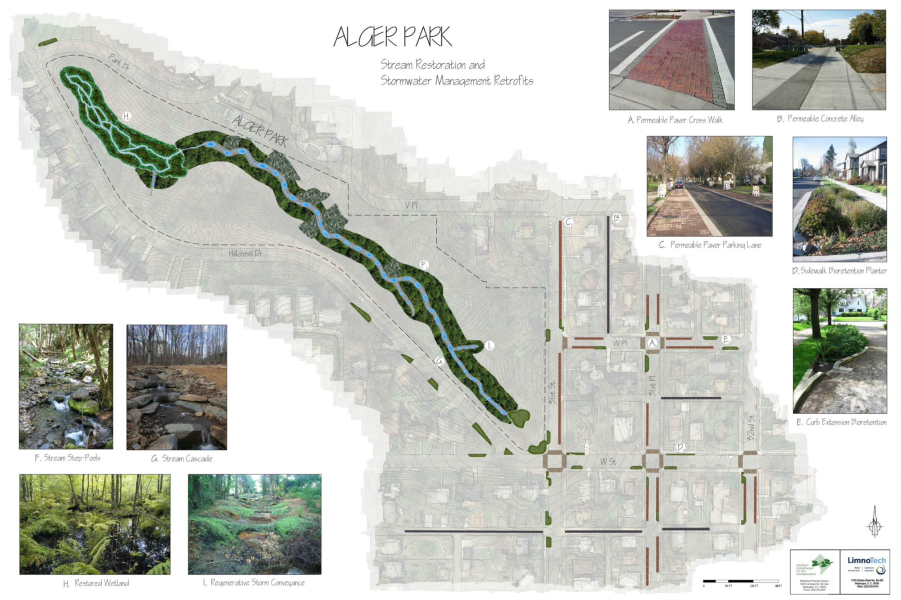 Presentations: TBD
More information:
Contact Information:
Josh Burch
Environmental Protection Specialist
[email protected] | (202) 734-9527