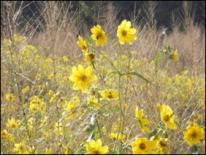 << Back to Watershed Protection Planning & Restoration Main Page
The Watershed Protection Division's Restoration Branch plans, funds, and oversees activities that will protect and restore river, stream and wetland habitats in the District of Columbia. The intent of these activities is to improve water quality in the District's waterways and improve the ecological diversity found within the District's borders.
Stream Restoration
Stream Restoration work focuses on stabilizing stream banks, improving water quality, and enhancing habitat conditions in streams across the District. Due to the urbanized nature of the District streams throughout deal with large amounts of stormwater entering the streams during storm events at both high volume and high velocity. These conditions cause high rates of bank erosion which degrades habitat and water quality conditions. Stream restoration work aims to stabilize and enhance stream conditions based on the current urbanized conditions in the District.


To date the District has restored over 4.35 miles (23,000 ft) of stream in the District over the last decade. The Restoration Branch continues to restore streams across the District as opportunities and funding allows.
Stream Restoration Projects by Watershed:
Anacostia Watershed
Pope Branch – Regenerative Stormwater Conveyance
Potomac Watershed
Oxon Run Watershed
Rock Creek Watershed
Bingham Run
Linnean Park
Milkhouse Ford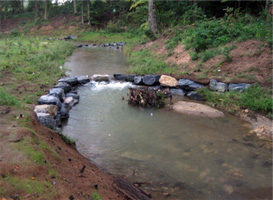 Wetland Restoration
Wetlands are referred to as nature's kidneys as they help to filter river water by absorbing and processing pollutants. They additionally provide valuable habitat for riverine birds, fish, and mammals, help reduce flooding, and act as areas for carbon sequestration which can help mitigate climate change. The Anacostia River has lost over 2,500 acres of wetlands to development and infill over the past 200 years, but efforts are ongoing to enhance existing wetlands and create over 100 new acres of wetlands by 2032.
Over the past 20 years, DOEE and its partners have implemented several wetland restoration projects and have several in the planning or design process.
For more information read the history of wetlands in the District.
Restoration Projects:
---
A complimentary project to treat stormwater runoff is the RiverSmart Homes project. DDOE is piloting this project in the Pope Branch watershed with the expectation that 75 homes will take advantage of the program's subsidies and will do their part in helping to clean up Pope Branch.
---