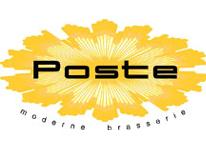 Poste Moderne Brasserie
2009 Mayor's Environmental Excellence Award Winner:
Outstanding Achievement by a Restaurant
---
Poste Moderne Brasserie, following the lead of executive chef Robert Weland, is passionate about their commitment to the environment and to sustainability. Through a driven chef-led eco program, they have been a leader and trendsetter in the restaurant industry for many years, by tirelessly finding ways to lessen our impact on the globe. With restaurants being one of the largest polluters in the retail spectrum, Poste has implemented strict standards to consistently reduce waste, source organic ingredients, buy locally as often as possible, offer a wide selection of biodynamic and organic wines, and maintain a highly-functioning organic herb and vegetable garden. Their environmental and eco-friendly policies have been implemented for a number of years, and while they have more repeat guests as a result, they simply see this as the only responsible way to do business. Poste Moderne Brasserie strongly believes that their fervent efforts of being kinder to our universe are the very efforts that allow us to make the greatest impact on our community.
Chef Robert Weland is the resident eco-champion at Poste and through his vision and leadership, the restaurant has transformed into a leading eco-friendly business in Washington, DC and also within the family of Kimpton Hotels and Restaurants, owner of Poste. Chef Weland, dedicated to reducing carbon emissions, rides his bike to work daily and after joining the Poste team in 2004 he quickly converted portions of the outdoor patio space into a sustainable and organic vegetable and herb garden. That was only the beginning, and soon after he and the management team quickly implemented a number of operational standards to increase the restaurant's overall environmental efficiency. Beyond a garden and a cycling chef, Poste is proud of standards like the use of 100% recyclable paper for menus and other printing needs, energy-saving bulbs in all lighting, composting of all food scraps, and use of bio-degradable corn-based straws to name a few. Currently, Poste is the leading example within Kimpton and is often used as a case study for environmental compliance throughout the entire company, which consists of 42 restaurants in the US and Canada.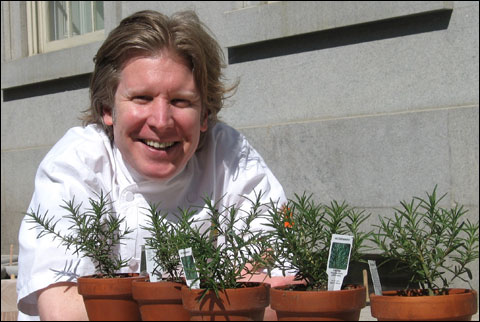 Executive Chef Robert Weland
Examples of Poste's environmental standards:
Organic garden: An organic vegetable and herb garden is maintained year-round and ingredients are picked and used daily to prepare fresh meals. Coffee grounds from the restaurant are saved and used as fertilizer in the garden.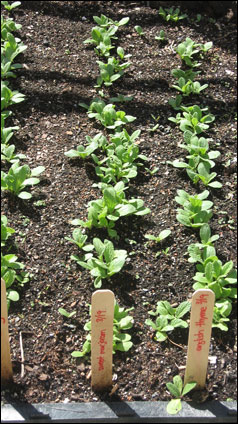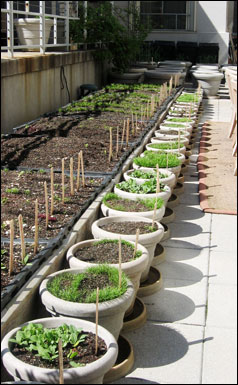 Container vegetable garden (more than 71 pots in the courtyard)
No bottled water: Since 2007, Poste eliminated all bottled water and installed an on-site water filtration system allowing the restaurant to serve both carbonated and non-carbonated purified water. The restaurant currently uses Natura®, and serves the purified water in reusable and elegant swing-top bottles.
Organic Beverages: All coffee is organic, shade grown and/or fair trade. Poste offers over 20 organic and biodynamic wines, freshly squeezed organic orange and grapefruit juices, two organic liquors and one organic beer.
Biodegradable Products: Disposable utensils, straws, and packaging have been replaced with 100% biodegradable corn-based materials.
Composting: All food scraps, organic waste from the bar, and spoiled foods are composted and on average the restaurant composts hundreds of pounds of scrap per month. In addition, all cooking oil is recycled and converted into diesel fuel.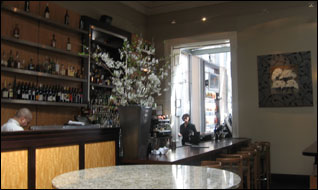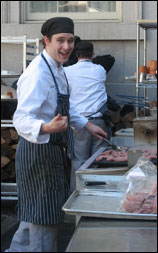 Cleaning Supplies: The restaurant is cleaned with environmentally friendly cleaning products.
Soy Inks and recycled paper: All menus, daily specials, check presenters and other materials are printed on recycled paper using soy-based ink.
Recycling: A back-of-house recycling program is in place and enforced where glass, bottles, paper, plastic and cardboard are recycled.
Energy Conservation: Back-of-house lighting is retrofitted and audited to ensure that energy efficient bulbs are in place. All lighting in the back-office space is motion-sensored.
(Photo: Patrick Lynch in Poste's outdoor kitchen)
Community Support: Support of the Trust for Public Land (TPL) through a national partnership with Kimpton Hotels and Restaurants. Every year, Poste hosts a local Washington, DC benefit event for TPL, a nonprofit organization that conserves land for people to enjoy as parks, gardens, and other natural places, ensuring livable communities for generations to come. Poste is also an ardent supporter of the FRESHFARM Markets along with local farmers from the community. Please see below for a letter of support from Ann Yonkers, Co-Director, which was written to the National Restaurant Association for Poste's 2008 Restaurant Neighbor Award nomination.