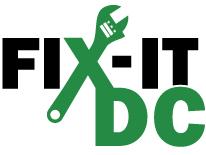 Why is Fix and Repair so Important?
Repairing and reusing things, rather than throwing them away, helps reduce the amount of raw materials and energy used to manufacture new products. It also minimizes how much stuff goes into the landfill. Transitioning from a make-use-dispose approach to one that focuses on repair and reuse is an important part of meeting the Mayor Bowser's goals to achieve Zero Waste by 2032 and to become a carbon neutral city by 2045.
What is a Fix-It Event?
Fix-It DC hosts community repair events dedicated to changing the "throw-it-away" mentality. Visitors bring their broken items to the Fix-It DC Event where volunteer Fix-It coaches provide guidance in troubleshooting how to repair each item.
These events not only extend the useful life of consumer goods, but they also create a culture of recovery and reuse by helping to shift mindsets toward considering repairing items before replacing them. Hopefully, this repair ethic will lead people to consider repairability in future purchasing decisions.
Fix-It DC
Helps create a culture of recovery and reuse,
Provides resources for minimizing and diverting waste, and
Supports the creation of economic opportunities in recovery, repair, and reuse - by exposing participants to local repair services they may not otherwise know of, these events may also serve to shore up the repair industry, driving customers to repair businesses instead of defaulting to purchasing new items.
Fix-It Event
Wednesday, January 24, 5:30pm-7:30pm at MLK Library (901 G St NW) Registration will open at the beginning of 2024

.
If you would like to participate as Fix-It coach for the events, please sign-up.
Fix-It @ Across the Nation and Around the Globe
The Fix-It Clinic team (fixitclinic.org, see also facebook.com/FixitClinic) has organized an online community of Fixers on the platform Discord, with repairers from around the world.
Participate as a Fixer
Are you handy? Do you have repair skills you'd like to share (e.g., jewelry, small appliances, bicycles, etc.)? Sign up to be one of our Fix-it Coaches.
Being a Fix-It DC Coach is easy, simply provide participants with:
1) encouragement to investigate their broken item and;
2) guidance with tools.
Whether you want to help fix or just observe you're heartily invited to attend.
Electronics Recycling
If an item can't be repaired, recycling used electronics can help recover valuable resources and properly manage potentially hazardous materials. Certain electronics are also banned from being put in the trash in the District. The eCYCLE DC program brings individuals in the District of Columbia more options for recycling their electronics.
For more information, visit the eCYCLE DC or email [email protected] with questions.
Contact Us
Please email: [email protected] with questions.
For More Information:
Check out the Urban Sustainability Director's Network Sustainable Consumption Toolkit: Community Repair Events