The energy used in buildings is the largest source of greenhouse gas emissions in DC. In order to achieve our climate change mitigation goals to cut emissions by 60% by 2030 and be carbon neutral by 2045, our buildings, both new and existing, will need to use much less energy that comes from cleaner sources likes solar. In order to support the transformation of our buildings, DOEE awarded a competitive grant to a team led by the Institute for Market Transformation (IMT) in June 2019 to develop and operate a High-Performance Building Hub. The Hub will support owners, developers, builders, and designers as they seek to comply with the District's new green building requirements and ambitious policy objectives.
The Hub will advance the Clean Energy DC Plan, and the Clean Energy DC Omnibus Act of 2018. It will also provide education on the District's Building Energy and Green Construction Codes which we will continue to strengthen. By providing resources to the building industry to incorporate solar energy into their projects, the Hub will support Solar for All. The Hub will draw from examples from leading cities, including the New York City Building Energy Exchange, the Vancouver Zero Emission Building Exchange, and BloxHUB in Copenhagen.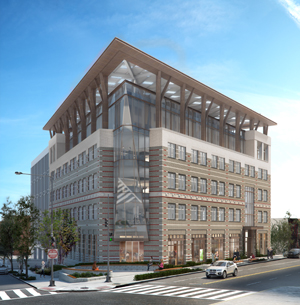 We are actively seeking input on how the Hub can best support the building industry. If you are interested in staying up-to-date on the activities of the High-Performance Building Hub, please visit IMT.org to sign up for updates.
If you have any questions regarding the High-Performance Building Hub, please contact Kate Johnson at [email protected].