<< Back to Watershed Protection main page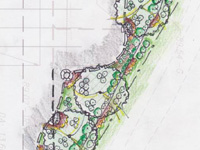 DOEE works to implement innovative stormwater retrofits around the District.
DOEE oversees the design and construction of low impact development (LID) stormwater retrofits at various locations around the District including: federal parkland, District parkland and in the public right of way.
These stormwater retrofit projects are funded through the DOEE Stormwater Enterprise Fund and grant funding that DOEE receives from the Environmental Protection Agency (EPA).
The goal of these projects is to improve water quality in the Anacostia and Potomac Rivers for the benefit of District residents, visitors, wildlife and the environment, while providing high quality outdoor recreational space and facilities for children and adults to learn, play, and connect with nature. A further goal of these projects is to reduce the stormwater pollutants that enter the local waters (i.e., rivers, streams, estuaries) of the District, as required under the current applicable EPA National Pollutant Discharge Elimination System (NPDES) permit for the District's municipal separate storm sewer system (MS4).
To see what projects have been installed to date, please follow the links below: