Mayor Bowser Joins Our Last Straw Coalition to Say No to Plastic Straws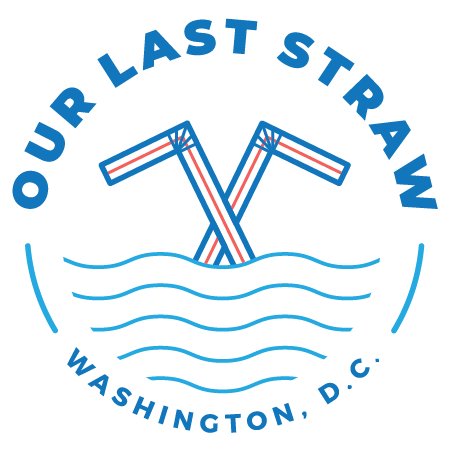 Businesses, Nonprofits, Individuals, and DC Government Unite in the Effort to Reduce Plastic Waste in the District
In an effort to reduce plastic waste and litter in the District, Mayor Bowser recently announced her full support of Our Last Straw, joining the coalition of businesses, environmental organizations, and residents seeking to eliminate the use of single-use plastic straws.
Plastic waste is detrimental to the environment, negatively impacting our communities and our waterways, with straws representing a measurable portion of the plastic waste gathered in DC's trash traps and during cleanup events. According to the Alice Ferguson Foundation and Anacostia Watershed Society, more than 3,500 straws were collected at their annual Potomac Watershed and Earth Day cleanups in April 2018.
"Washington, DC is proud to be leading the way on reducing plastic waste," said DC Mayor Muriel Bowser, "and as we continue on the path to becoming the healthiest, greenest, and most livable city in the nation, it's time to tackle straws. Mid-way through the Year of the Anacostia, there is no better time for our community to double down on efforts that protect our waterways and help us meet our waste diversion goals. Residents and businesses are eager to be part of the solution, and through the Our Last Straw coalition, it's going to be easy to do just that. I encourage everyone to take the pledge to say no to plastic straws, and to help keep our neighborhoods, our waterways, and our city trash free."
Each year, over 200,000 pounds of trash is estimated to enter the Anacostia River, much of that from litter that is washed into the District's storm drains. Many of these items—including plastic bags, foam, and other food service ware items which are already regulated in the District--begin to break down over time and pose a threat to wildlife that rely on our water resources.
The Our Last Straw coalition, created by Dan Simons and the Farmers Restaurant Group, encourages businesses, organizations, and individuals to pledge to end their reliance on single-use plastic straws by skipping straws entirely, switching to paper or reusable straws when needed, and educating others on the environmental dangers posed by single-use plastics.