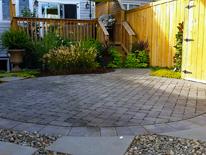 Permeable pavers are a self-draining system that allows rainwater to seep around individual pavers, soaking naturally into the ground underneath. Re-vegetation entails replacing impervious surfaces with vegetation, increasing the green space on a property and allowing for rainwater to soak into the ground naturally.
Removal of impervious surface and replacement with permeable pavers and/or vegetation is commonly done for patios, driveways, and parking lots.
Permeable pavers are more expensive than conventional paving but have a longer life expectancy. The total installation cost depends on site specifics and materials.
Benefits of Permeable Pavers and Re-Vegetation to the Homeowner
Permeable pavers are more aesthetically pleasing than conventional pavers and provide many advantages for the homeowner. Permeable pavers:
Come in more colors and shapes than traditional concrete or asphalt
Can create a longer-lasting surface compared with conventional concrete
Can reduce flooding on your property or the surrounding area.
Likewise, re-vegetating a previously impervious space provides many advantages. Re-vegetation:
Creates an aesthetically pleasing space
Provides habitat for native pollinators and wildlife
Can reduce flooding on your property or the surrounding area
Benefits of Permeable Pavers and Re-Vegetation to the District
The District is promoting the replacement of impervious surfaces with permeable pavers and/or vegetation because it improves the health of local streams and waterways by producing substantially less stormwater runoff than non-pervious areas. In addition, permeable pavers and re-vegetation:
Reduce flooding and erosion caused by stormwater runoff
Promote groundwater recharge, increasing both the quantity and quality of water
Eliminate the cost of piping stormwater to an outfall
Promote tree survival by providing air and water to their roots
Want to remove impervious surfaces on your property and replace them with permeable pavers or vegetation? RiverSmart Homes can help.
DOEE provides homeowners with rebates to retain stormwater runoff on their properties through its Permeable Surface Rebate Program. Rebates are issued as a direct reimbursement to homeowners at a rate of $10.00 per square foot of impervious surface removed and replaced with permeable pavers and $5.00 per square foot of impervious surface removed and replaced with vegetation. On average, the cost of installing permeable pavers or re-vegetating an area is approximately $30-$40 per square foot. To be eligible, you must be replacing or removing an existing impervious surface (concrete, asphalt, etc.) like a driveway, patio, or parking area. Walkways and small patios are not eligible. The minimum square footage that must be replaced with permeable pavers is 100 square feet and the minimum square footage that must be replaced with vegetation is 200 square feet. For more information visit the Permeable Surface Rebate Program page.
$4,000 maximum rebate per property for properties located within Wards 7, 8, and/or the Municipal Separate Storm Sewer System (MS4) Area

No rebate funds are available for properties in the Combined Sewer System (CSS) that are outside of Wards 7 and 8. We are not able to accept or review applications for properties outside of these boundaries.
Please use this map (coming soon) to determine if your property qualifies for the rebate program.
Permeable Pavers Maintenance
Once your permeable paver system has been installed, there are some maintenance requirements that should be carried out regularly in order to maintain the efficiency and long lifetime of your new permeable paver system. They include:
Inspect the site on a regular basis, particularly after heavy rain storms, and clear off any dirt or debris
Sweep and/or vacuum pervious pavers every three months to prevent dirt from accumulating between the gaps and clogging
Make sure that the gaps are well filled with coarse gravel; if necessary, refill them
Fix or replace damaged  pervious pavers
For more information, see the Permeable Pavers Care Sheet attached below.