<< Back to Fishing in the District main page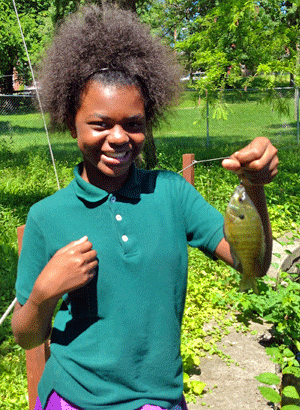 Angler Education
Would you like to go fishing but don't know where to go or what equipment you need? DOEE's Fisheries & Wildlife staff can help you get started!
2022 Fishing Events
- Stay tuned for information about our 2023 events!
Know Before You Go!
In the District, anglers between the ages of 16 and 64 need a fishing license. To learn more about where to purchase licenses, daily fish limits, fishing regulations, and to view the DC Fish Field Guide, please visit Fishing in the District.
Where to fish
The District is home to several bodies of water that provide fishing opportunities for beginners as well as advanced anglers. There are several parks that provide access to rivers and streams that offer excellent fishing including:
Fletcher's Cove on the C & O Canal - Fletcher's Boathouse rents canoes, kayaks and rowboats for fishing on the canal and Potomac River. They also operate a concession stand that sells snacks and fishing gear. Read more>>
Anacostia Park - Anacostia Park is operated by the United States National Park Service. The park features playgrounds, playing fields and the Anacostia Riverwalk Trail. It also houses the only free aquarium in Washington, DC! DOEE's Aquatic Resources Education Center is located in the north end of the park and features over 40 species of local fish, amphibians, and reptiles. Anacostia Park also has a boat ramp and is a great place to fish from shore.
Hains Point - Hains Point is at the southern tip of East Potomac Park in SW and offers beautiful views of the Potomac River, Anacostia River, and the Washington Channel. Fishing is one of the popular recreational activities in this park.
Diamond Teague Park - is a public plaza with water taxi and public piers at the terminus of First Street at the Anacostia River across from Nationals Park. On Friday evenings, Anacostia Riverkeeper hosts free fishing nights at the park from June to August. Visit the Anacostia Riverkeeper website for more details!
Additional Resources