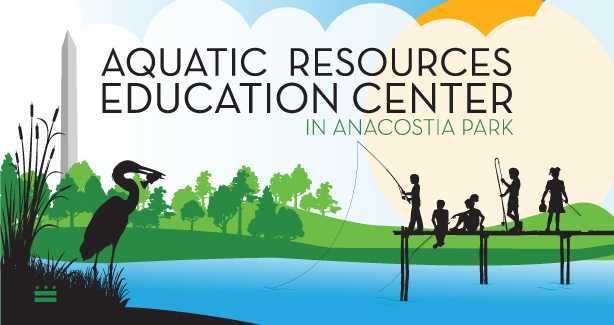 Our programs are changing daily due to Covid-19. Below you will find a general list of programs we offer. Please email [email protected] regarding questions and availability.
Who We Are:
The AREC is a multi-use environmental education center located in Anacostia Park, SE run by DOEE.
It opened in 1986 and renovated in 2005 to include classrooms and aquaculture.
The center exhibits over 40 species of fish, amphibians, reptiles, and invertebrates found in the District and the Chesapeake Bay.
You can learn more about the AREC and wildlife found in the District by watching this virtual AREC tour.
Programs We Offer
Upcoming Events:
Project Wild: The AREC will host a self-paced virtual training on Aug 2-Aug 13 with an outdoor Q&A /course book pick up on Aug 17 from 5:30-7pm.

FrogWatch: FrogWatch walks on Kingman & Heritage Islands will run from March 18- Aug 19. Learn More>>

Online Education: Looking for online aquatic lessons?
Learn more about our online lessons.

2021 Summer Programs: The AREC is offering two new outdoor programs this summer! The first is fishing 101 clinics and second is outdoor environmental education sessions. These programs are free and are focused on small groups of grade school aged children and youth. Please email

[email protected]

for more information.
Professional Development:
Teacher Trainings: Training workshops are available for formal and informal educators. We train educators using Project WILD, Aquatic WILD and Growing Up WILD curricula. We also provide Angling Instructor workshops. Read more>>
Angler Education & Clinics:
Aquatic Resources Education Center Location
1900 Anacostia Drive SE
Washington, DC 20020
Inside Anacostia Park, Section E
(next to Skating Pavilion) (see map)
Phone: (202) 535-2276 | Email [email protected]
Thank you to our grant funders at the U.S. Fish & Wildlife service who allow all these programs to be free.