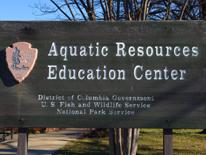 The Aquatic Resources Education Center (AREC) is a multi-use environmental education and aquaculture center located in Anacostia Park in southeast Washington, DC. In collaboration with the National Park Service and the Fish & Wildlife Service, the Department of Energy & Environment opened the AREC in 2005. It is one of three facilities of its kind in the Northeast Region of the United States. The AREC presents a unique opportunity for visitors to experience close encounters with more than 40 species of fish, amphibians, reptiles, invertebrates, and aquatic plants that can be found in the rivers, streams, and wetlands of the District as well as in the Chesapeake Bay. DOEE Fish and Wildlife Biologists provide free environmental education programs and facility tours to students and the general public on aquatic environments and water resources.
Schedule a Field Trip
Pre-K-12 schools, learning centers, and community groups can register for hands-on field or classroom environmental education lessons that focus on the aquatic resources and wildlife found in the District.

Field trip program options include:
Lessons on Aquatic Resources and Watershed Science: Students explore an array of topics such as fish biology, amphibian and reptile ecology, benthic macroinvertebrates as water quality indicators, pollution prevention, ecological relationships, invasive species impacts, environmental stewardship, and fisheries and wildlife career introductions. AREC lessons were developed using the Next Generation Science Standards, align to DC Science Standards, and support the District's Environmental Literacy Program. View the AREC Education Programs Summary and DC Science Standards Matrix for full descriptions and standards correlations to inform your selection (see pdfs below). Register online for a program.

River Explorers:

Sign your students up for an

Anacostia River Explorers Boat Tour

and Aquatic Resources Lesson at the AREC! Students discover the Anacostia River through a classroom lesson and facility tour at the AREC in conjunction with a boat trip on the Anacostia River to learn the history of this waterway and the wildlife that live in and around the river. This program is dependent upon group size and requires a 2-3 hour time commitment; scheduling is based on partner organization availability.

Register online for this program

.




Student Fishing Clinic

: Participate in a clinic that provides instruction on selecting equipment and bait, casting, and locating the best fishing spots in the District followed by hands-on experience angling along the shore of the Anacostia River. Fishing Clinics are scheduled April through October (weather permitting) for small groups of 15 participants or fewer and require a 3 hour time commitment. One adult chaperone is required per 5 students aged 3

rd

grade and up; chaperones will learn alongside students and provide active assistance with lesson components, safety, and supervision.

Register online for this program

.




Summer Camp Lesson Series

: Summer camp sessions are 60 minute-themed experiences offered June through August annually. Students participate in a tour of the AREC

paired with an activity booklet featuring fish, aquatic invertebrates, amphibians, or reptiles of the District of Columbia.

Sessions are booked Monday through Friday from

10:00 am to 11:00 am, 11:00 am to 12:00 pm, or 1:00 pm to 2:00 pm and may be paired with an Anacostia River Explorers Boat Tour upon request and based on boat tour partner availability (additional details above under "River Explorers".)

Register online for this program

.
Attend a Family Program
Bring your family to the AREC to see local aquatic species, explore our growing Discovery Room, and attend one of our regularly scheduled programs.
Fish Tales Story Hour
Join staff biologists monthly for free nature-based stories, crafts, and songs for 2-5 year olds and their parents/guardians! Email

[email protected]

to sign up for:

September 7th, 10:00 am – 11:00 am: Turtle Time
October 5th, 10:00 am – 11:00 am: Aquatic Bird Adventures
November 2nd, 10:00 am – 11:00 am: Marvelous Mammals
December 7th, 10:00 am – 11:00 am: The Power of Plants

Feeding Frenzy
Have you ever seen a Longnose Gar hunt? Or witnessed how the Snapping Turtle got its name? Join staff biologists during September through March on Fridays at 11:00 am to see our fish, turtles, and amphibians feast during an educational guided tour and feeding demonstration.

Family Fishing
DOEE offers resources for beginning anglers to get hooked! Plan some quality time fishing with the family through one of these opportunities:

The Family and Youth Casting Call (FYCC) is a free annual event where DOEE provides fishing instruction, supplies bait and equipment, and organizes volunteer fishing instructors to help participants learn the basics of fishing in a fun, supportive setting. View the event page to learn more.
Loaner equipment is available for fishing along the Anacostia River, adjacent to the AREC, in the north end of Anacostia Park. Spin cast rods and basic tackle equipment may be reserved in advance on weekdays from 11:00 am to 3:00 pm during April through October. Participants must bring their own bait and anglers aged 16-64 must show their fishing license upon arrival. A maximum of 10 rods may be signed out by one family group. Email

[email protected]

to sign up for a date/time and to request equipment.
Get started on your own by exploring the resources on DOEE's Learn to Fish! page.
Educator Professional Development Workshops
Educator Professional Development Workshops are available to informal and formal instructors of pre-K through High School students. Workshop participants receive free curriculum and activity guides, learn educational methodologies for teaching about water resources, aquatic ecology, and nature-based learning, and are introduced to supplemental resources. Visit the Environmental Education Workshops and Training page to learn more and register for an upcoming opportunity.
DOEE FrogWatch Citizen Science Program
The DOEE FrogWatch chapter invites volunteer citizen scientists to help collect data on calling frogs and toads and their supporting aquatic habitats. Volunteer training classes are offered annually and data are collected at night during the spring through summer. Visit the DOEE FrogWatch page to learn how you can contribute to amphibian conservation in your community!
Come for a Visit
Walk in visitors are welcome at the AREC Monday through Friday between 10:00 am and 2:00 pm. Visitors can request a tour (staff availability dependent) or explore the aquarium on their own with an activity booklet or scavenger hunt.
Aquatic Resources Education Center Location & Hours
1900 Anacostia Drive SE
Washington, DC 20020
Inside Anacostia Park, Section E
(next to Skating Pavilion) (see map)
Phone: (202) 535-2276
Email [email protected]
Public Hours: Monday—Friday 10:00 am—2:00 pm
Other hours (including weekends) by appointment only. The AREC is closed on Federal Holidays.