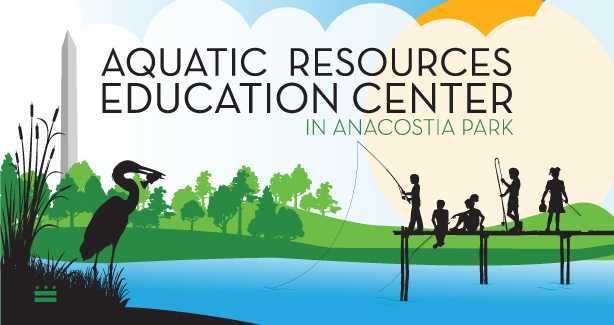 The Aquatic Resources Education Center (AREC) is a multi-use environmental education and aquaculture center located in Anacostia Park in southeast Washington, DC. In collaboration with the National Park Service and the Fish & Wildlife Service, the Department of Energy & Environment opened the AREC in 2005. It is one of three facilities of its kind in the Northeast Region of the United States. The AREC presents a unique opportunity for visitors to experience close encounters with more than 40 species of fish, amphibians, reptiles, invertebrates, and aquatic plants that can be found in the rivers, streams, and wetlands of the District as well as in the Chesapeake Bay. DOEE Fish and Wildlife Biologists provide free environmental education programs and facility tours to students and the general public on aquatic environments and water resources.
Schedule a Field Trip
Pre-K-12 schools, learning centers, and community groups can register for hands-on field or classroom environmental education lessons that focus on the aquatic resources and wildlife found in the District.

Field trip program options include:
Lessons on Aquatic Resources and Watershed Science: Students explore an array of topics such as fish biology, amphibian and reptile ecology, benthic macroinvertebrates as water quality indicators, pollution prevention, ecological relationships, invasive species impacts, environmental stewardship, and fisheries and wildlife career introductions. AREC lessons were developed using the Next Generation Science Standards, align to DC Science Standards, and support the District's Environmental Literacy Program. View the AREC Education Programs Summary and DC Science Standards Matrix for full descriptions and standards correlations to inform your selection (see pdfs below). Maximum of 40 students per time slot. Register online for a program.

River Explorers:

Sign your students up for an

Anacostia River Explorers Boat Tour

and Aquatic Resources Lesson at the AREC! Students discover the Anacostia River through a classroom lesson and facility tour at the AREC in conjunction with a boat trip on the Anacostia River to learn the history of this waterway and the wildlife that live in and around the river. Each boat tour can accommodate 20 passengers at one time; multiple tours available upon request. This program is dependent upon group size and requires a 2-3 hour time commitment; scheduling is based on partner organization availability.

Register online for this program

.




Summer Camp Program

: Summer camp sessions are 60 minute-themed experiences offered June through August annually. Students participate in a tour of the AREC paired with an activity booklet covering a variety of aquatic animal and conservation topics. Sessions are booked Monday through Friday from 10:00 am to 11:00 am, 11:00 am to 12:00 pm, or 1:00 pm to 2:00 pm. Maximum of 25 students per time slot.

Register online for this program

.
Attend a Family Program
Family Discovery Days
Join staff biologists for rotating themed programs that are fun for the whole family! Family Discovery Days are held in conjunction with select days off for DC Public Schools students. The series has concluded for the 2018-2019 school year and will resume in fall 2019.
Family Fishing
DOEE offers resources for beginning anglers to get hooked! Plan some quality time fishing with the family through one of these opportunities:
The Family and Youth Casting Call (FYCC) is a free annual event where DOEE provides fishing instruction, supplies bait and equipment, and organizes volunteer fishing instructors to help participants learn the basics of fishing in a fun, supportive setting. Head to the Family & Youth Casting Call page to learn more.

Anacostia River Family Fishing Days are hosted in Anacostia Park at the Aquatic Resources Education Center and Anacostia Boat Ramp in partnership with the Bureau of Land Management and FishingCommunity.org.
The 2019 Family Fishing Days will take place from 10:00 am – 1:00 pm on July 7, August 3, September 8, and October 5 in Anacostia Park outside of the Aquatic Resources Education Center. Go to the Learn to Fish! page to find out more and register for an upcoming event.
Angler Education & Clinics
Educator Professional Development Workshops
Educator Professional Development Workshops are available to informal and formal instructors of pre-K through High School students. Workshop participants receive free curriculum and activity guides, learn educational methodologies for teaching about water resources, aquatic ecology, and nature-based learning, and are introduced to supplemental resources. Visit the Environmental Education Workshops and Training page to learn more and register for an upcoming opportunity.
DOEE FrogWatch Citizen Science Program
The DOEE FrogWatch chapter invites volunteer citizen scientists to help collect data on calling frogs and toads and their supporting aquatic habitats. Volunteer training classes are offered annually and data are collected at night during the spring through summer. Visit the DOEE FrogWatch page to learn how you can contribute to amphibian conservation in your community!
Come for a Visit
Walk in visitors are welcome at the AREC Monday through Friday between 10:00 am and 2:00 pm. Visitors can request a tour (staff availability dependent) or explore the three rooms of aquatic animal exhibits and the interactive Discovery Room displays on their own.
Aquatic Resources Education Center Location & Hours
1900 Anacostia Drive SE
Washington, DC 20020
Inside Anacostia Park, Section E
(next to Skating Pavilion) (see map)
Phone: (202) 535-2276
Email [email protected]
Public Hours: Monday—Friday 10:00 am—2:00 pm
Other hours (including weekends) by appointment only. The AREC is closed on Federal Holidays.