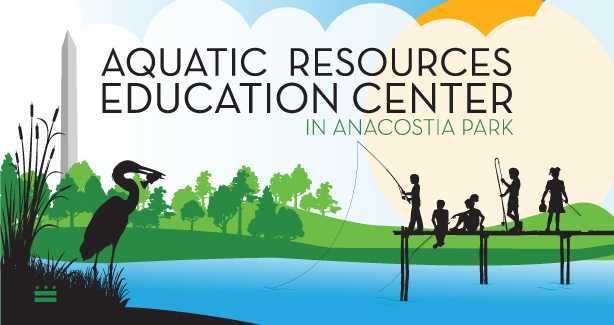 ALERT: With Mayor Bowser adjusting the District's operating status in response to coronavirus (COVID-19), all non-essential agency events, gatherings and meetings are postponed until further notice. DOEE remains open. All staff will work remotely, except in limited cases. All DOEE operations and services remain unchanged unless otherwise stated. For operating status of DC Government and more information on response, please visit coronavirus.dc.gov.
The Aquatic Resources Education Center is currently closed and will reopen when the District's operating status returns to normal.
The Aquatic Resources Education Center (AREC) is a multi-use environmental education and aquaculture center located in Anacostia Park in southeast Washington, DC. One of three facilities of its kind in the Northeast Region of the United States, DOEE opened the AREC in collaboration with the National Park Service and the U.S. Fish & Wildlife Service in 2005. The AREC presents a unique opportunity for visitors to experience close encounters with more than 40 species of fish, amphibians, reptiles, and invertebrates that can be found in the rivers, streams, and wetlands of the District as well as in the Chesapeake Bay. DOEE Fish and Wildlife Biologists provide free environmental education programs and facility tours to students and the general public on aquatic habitats, species conservation, and water resources.
Schedule a Field Trip
There is something for everyone! Pre-K-12 schools, learning centers, and home school groups can register for hands-on, standards-aligned environmental education lessons that focus on the aquatic resources and wildlife found in the District. Guided AREC tours are available for summer camps and groups of college students, senior centers, and other community members. Read on to see what AREC offerings fit best for your group.
Register online and select from one of the options below:
Getting to the AREC:
Please refer to the information at the bottom of this page for the Anacostia Park address and take note of the location of the building in proximity to the park entrances and public transportation stops when planning a trip.

A limited amount of transportation support is available for District of Columbia schools; please include this in your program request if needed and we will notify you of availability and make arrangements on your behalf.
Get Hooked through Angler Education & Clinics
DOEE offers resources for beginning anglers to get hooked! Upcoming opportunities include:
The Family and Youth Casting Call (FYCC) is a free annual event where DOEE provides fishing instruction, supplies bait and equipment, and organizes volunteer fishing instructors to help participants learn the basics of fishing in a fun, supportive setting. Head to the Family & Youth Casting Call page to learn more.

Getting started on your own by exploring the resources on DOEE's Learn to Fish! page and read up on Fishing in the District.
Grow with Educator Professional Development Workshops
Educator Professional Development Workshops are available to informal and formal instructors of pre-K through High School students. Workshop participants receive free curriculum and activity guides, learn educational methodologies for teaching about water resources, aquatic ecology, and nature-based learning, and are introduced to supplemental resources. Visit the Environmental Education Workshops and Training page to learn more and register for an upcoming opportunity.
Come for a Visit
Walk in visitors are welcome at the AREC Monday through Friday between 10:00 am and 2:00 pm. Visitors can request a tour (staff availability dependent) or explore the three rooms of aquatic animal exhibits and the interactive Discovery Room displays on their own. Groups of 10 or more must register in advance.
Aquatic Resources Education Center Location & Hours
1900 Anacostia Drive SE
Washington, DC 20020
Inside Anacostia Park, Section E
(next to Skating Pavilion) (see map)
Phone: (202) 535-2276
Email [email protected]
Public Hours: Monday—Friday 10:00 am—2:00 pm
Other hours (including weekends) by appointment only. The AREC is closed on Federal Holidays.