DOEE's Total Maximum Daily Load, or TMDL, program focuses on identifying and restoring polluted rivers, streams and other surface water bodies. TMDLs are prepared for waters identified as impaired on the 303(d) list in the District's Integrated Report which lists the water bodies and pollutant pair with the current impairment status.
A TMDL is a written, quantitative assessment of water quality problems in a water body and contributing sources of pollution. TMDL specifies the maximum amount of pollutant a water body can receive and still meet water quality standards (WQS), and allocate pollutant load reductions. TMDLs are sometimes referred to as a pollution "diet" or "budget" for a water body. A TMDL budget incorporates loads from point sources, non-point sources, natural background sources, and includes a margin of safety.
The District has over 350 TMDLs for various water quality issues such as bacteria, organic toxics, metals, PCBs, nutrients, oil and grease, excess sediments, low oxygen, and trash. The District is within the Chesapeake Bay watershed and is an active partner working toward restoration of the Bay. The District has also collaborated with regional partners to develop watershed-scale TMDLs for PCBs (2007), total suspended solids (2007), nutrients/biochemical oxygen demand (2008), and trash. The chart below summarizes District TMDLs grouped by pollutant type.
District TMDLs by Pollutant Group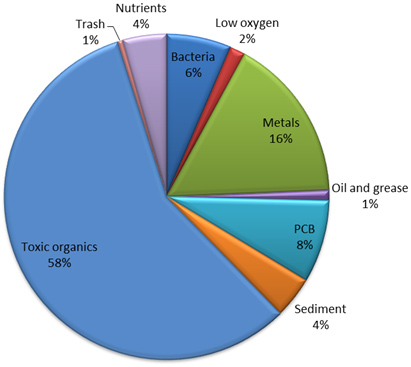 Toxic organics (chlordane, DDE, DDD, DDT, Dieldrin, heptachlor epoxide, PAHs, Total PCBs) 58%
Trash 1%
Nutrients 4%
Bacteria 6%
Low oxygen 2%
Metals (arsenic, copper, lead, zinc) 16%
Oil and grease 1%
PCB 8%
Sediment 4%
Several of the District TMDLs were challenged in Friends of the Earth v. EPA 446 F.3d 140 (D.C. Cir. 2006) because the loads were not expressed in daily loads. Following the case, a settlement agreement was reached between the US Environmental Protection Agency (EPA) and Anacostia Riverkeeper, Friends of the Earth, and Potomac Riverkeeper (Case No.: 1:09-cv-00098-JDB of January 15, 2009). To meet the settlement requirements, EPA will revise the applicable TMDLs to express daily loads, with cooperation from the District. Below are links to TMDL studies for the District and regional TMDLs in which the District is included.
TMDLs for the District's Water Bodies
For more information, contact the Water Quality Division, Planning and Permitting Branch at (202) 671-3033.