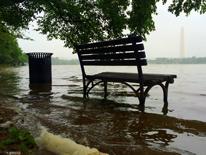 The District of Columbia is committed to addressing climate change by minimizing carbon pollution and increasing the District's resilience to our changing climate. Sustainable DC establishes goals and targets for responding to climate change, including commitments to:
Reduce greenhouse gas emissions by 50% below 2006 levels by 2032 and 80% by 2050
Advance climate adaptation and preparedness to make the District resilient to future climate change
Climate change initiatives to reduce carbon pollution and prepare for climate impacts are underway across District agencies. DOEE is the primary driver behind climate action planning and tracking progress towards our goals. Key initiatives include:
Climate Ready DC: The District of Columbia's plan to adapt to a changing climate.
Climate Action Planning: charting the path to reduce emissions 80% by 2050
Greenhouse Gas Inventories: measuring progress towards minimizing the District's climate impact