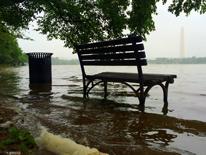 Recognizing that climate change is already impacting the District of Columbia, the city is taking steps to prepare for change through its Climate Ready DC plan. At the same time, the District is committed to reducing its own contribution to the greenhouse gas emissions that cause climate change. Sustainable DC established the District's commitment to reduce greenhouse gas emissions by 50% below 2006 levels by 2032. And in December 2017, Mayor Bowser pledged to make the District carbon neutral and climate resilient by 2050.
Meeting these goals will require improving the energy efficiency of District homes and buildings, switching to clean, renewable energy, and expanding sustainable transportation options. In addition to enacting policies and programs to cut emissions citywide, District government is also committed to reducing the carbon footprint of our own operations by cutting energy use, switching to more efficient fleet vehicles, and investing in renewable energy.
Work to reduce greenhouse gas emissions and prepare for climate impacts is underway across the District. DOEE is the primary driver behind climate action planning and tracking progress towards our goals. Learn more about our key initiatives and recent program highlights including:
Clean Energy DC: The roadmap to cut greenhouse gas emissions by 50% by 2032, through cutting energy use and increasing the use of renewable energy.
Climate Ready DC: The District of Columbia's plan to adapt to a changing climate.
Greenhouse Gas Inventories: measuring progress towards minimizing the District's climate impact.