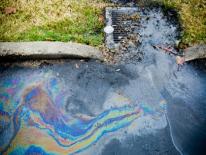 The mission of the Water Quality Division is to restore and protect the surface and ground waters of the District of Columbia. The Program was established under the authorities of the DC Water Pollution Control Act and the federal Clean Water Act (CWA).
Services:
Drinking Water Testing
For drinking water testing residents should contact DC Water at 202-612-3440.
Water Quality Permits and Certifications
As required under Section 401 of the Federal Clean Water Act, the Water Quality Division provides Water Quality Certification for draft National Pollutant Discharge Elimination System (NPDES) permits. The US Environmental Protection Agency, Region III, is the permitting authority for the NPDES program in the District of Columbia.
​Under Section 404 of the Clean Water Act, the Water Quality Division certifies dredge and fill permits issued by the US Army Corps of Engineers.
DOEE also issues 401 certification for EPA general permits requiring compliance by the District od Columbia.
DOEE also certifies individual water quality National Pollution Discharge Elimination System (NPDES) permits issued by EPA.
The Water Quality Division also reviews Well Permit  applications for approval.
Program Components:
Water Quality Control
The Water Quality Control component fulfills the function of policy planning as well as regulatory control of surface water, ground water and wetlands. In addition, it conducts special studies on pollutant fate and transport to identify probable sources and impacts, river/stream sediment and water column quality not covered by ambient monitoring, wet weather non-point source runoff quantity and quality, and discharge-related facility inspections. It also tracks permit violations.
Water Quality Monitoring
Water Quality Monitoring functions encompass water-body assessment; collection of ambient water quality data; periodic fish tissue analysis for parameters of concern such as PCB, chlordane, and DDT; periodic submerged aquatic vegetation survey; and bioassessment of wetlands and river fringes.
Clean Water Construction Grant Program
The District of Columbia's Clean Water Construction program distributes federal grant funding for the design and construction of voluntary projects that work to improve the quality of the District's streams and rivers and oversees the selected projects' implementation. Nonprofit organizations, government agencies, and universities/educational institutions are eligible to apply.
Environmental Laboratory
The Environmental Laboratory is charged with the analysis of samples for a variety of chemical parameters.
More resources