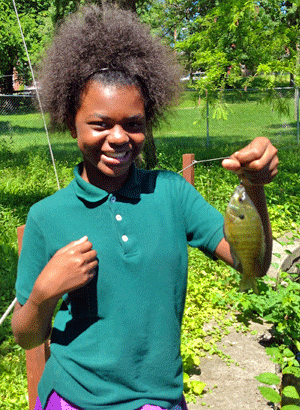 Angler Education
Would you like to go fishing but don't know where to go or what equipment you need? DOEE's Fisheries & Wildlife staff can help you get started!
Fishing Events
Casting Call - Since 2007, the Family & Youth Casting Call (FYCC) has helped new anglers learn how to fish in a safe, supervised environment. Through these events, DOEE staff and volunteers have taught numerous participants the fundamentals of fishing. Our partners share our belief that, through fishing, we can encourage people to protect and preserve our aquatic resources for future generations.
NOTE: In light of the ongoing COVID-19 pandemic, FYCC 2020 has been cancelled.
Anacostia River Family Fishing Clinics - DOEE staff are currently hosting pop-up fishing clinics every Thursday from 5:00 to 7:00 PM outside of the AREC. These free, family oriented clinics, scheduled to run through September 24, 2020, are limited to 15 persons on a first come, first served basis. Masks are required and social distancing must be maintained. Bait and tackle provided. All tackle sanitized after each event.
- Purchase a DC Fishing License online for anglers ages 16-64.
Intermediate Clinics - coming soon!
Special Presentations/Workshops - coming soon!
Tackle Loaner Program
DOEE provides loaner fishing tackle at no charge to individuals, families, and groups interested in fishing within Anacostia Park. Anglers ages 16-64 must display their fishing license upon arrival at the AREC. Bait not provided. Email [email protected] to request equipment.
NOTE: In light of the ongoing COVID-19 pandemic, tackle can only be loaned during events and pre-scheduled days AREC staff are working at the center.
Know before you go!
Before heading out to fish make sure you find out if you need a license! Every state has different regulations. In the District, anyone between the ages of 16 and 64 needs a license. To learn more about where to purchase licenses, daily fish limits, fishing regulations, and to view the DC Fish Field Guide, please visit Fishing in the District.
Where to fish
The District is home to several bodies of water that provide fishing opportunities for beginners as well as advanced anglers. There are several parks that provide access to rivers and streams that offer excellent fishing including:
Fletcher's Cove on the C & O Canal - Fletcher's Boathouse rents canoes, kayaks and rowboats for fishing on the canal and Potomac River. They also operate a concession stand that sells snacks and fishing gear. Read more>>
Anacostia Park - Anacostia Park is operated by the United States National Park Service. The park features playgrounds, playing fields and the Anacostia Riverwalk Trail. It also houses the only free aquarium in Washington, DC! DOEE's Aquatic Resources Education Center is located in the north end of the park and features over 40 species of local fish, amphibians, and reptiles. Anacostia Park also has a boat ramp and is a great place to fish from shore.
Hains Point - Hains Point is at the southern tip of East Potomac Park in SW and offers beautiful views of the Potomac River, Anacostia River, and the Washington Channel. Fishing is one of the popular recreational activities in this park.
Diamond Teague Park - is a public plaza with water taxi and public piers at the terminus of First Street at the Anacostia River across from Nationals Park. On Friday evenings, Anacostia Riverkeeper hosts free fishing nights at the park from June to August. Visit the Anacostia Riverkeeper website for more details!
Additional Resources