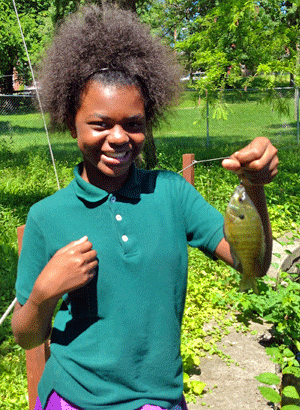 Angler Education
Would you like to go fishing but don't know where to go or what equipment you need? DOEE's Fisheries & Wildlife staff can help you get started!
Family & Youth Casting Call
Every year, DOEE hosts free family fishing events such as the Family & Youth Casting Call and Anacostia River Family Fishing Days to help new anglers learn how to fish in a safe, supervised atmosphere. Participants will learn how to use spin casting rod/reel combos to master basic casting, setting the hook, and removing and releasing fish back into the water. Instruction is provided by DOEE staff and volunteers from local fishing organizations. Our partners share our belief that, through fishing, we can encourage people to protect and preserve our aquatic resources for future generations.
Anacostia River Family Fishing Days
These free meet ups are hosted in Anacostia Park at the Aquatic Resources Education Center and offered in partnership with the Bureau of Land Management and Fishing Community.org for military families as well as any beginners looking to learn and practice the basics of catch-and-release fishing and local fish species
Family Fishing Days take place once a month from July-October following the Family & Youth Casting Call and provide the opportunity for beginners to borrow equipment, learn to fish, and practice their angling skills in a small group setting in Anacostia Park. Participants check-in and learn what they might catch by starting with a guided tour of the AREC provided by DOEE Fish & Wildlife biologists before continuing on to catch-and-release fishing along the shore of the Anacostia River and renovated dock. More info and details for 2020 TBD.
- Purchase a DC Fishing License online for anglers ages 16-64.
Workshops and clinics
Learn the basics or expand your knowledge by attending a program hosted by DOEE and our partners. Register for an upcoming event and check back often for additional events and announcements.
Loaner fishing equipment

Spin cast rods and basic tackle are available on loan for fishing along the Anacostia River, adjacent to the AREC, in the north end of Anacostia Park. Equipment may be reserved in advance on weekdays from 11:00 am to 3:00 pm during April through October. Participants must bring their own bait and anglers aged 16-64 must show their fishing license upon arrival. A maximum of 10 rods may be signed out by one group. Email [email protected] to sign up for a date/time and to request equipment.
Know before you go!
Before heading out to fish make sure you find out if you need a license! Every state has different regulations. In the District, anyone between the ages of 16 and 64 needs a license. To learn more about where to purchase licenses, daily fish limits, fishing regulations, and to view the DC Fish Field Guide, please visit Fishing in the District.
Where to fish
The District is home to several bodies of water that provide fishing opportunities for beginners as well as advanced anglers. There are several parks that provide access to rivers and streams that offer excellent fishing including:
Fletcher's Cove on the C & O Canal - Fletcher's Boathouse rents canoes, kayaks and rowboats for fishing on the canal and Potomac River. They also operate a concession stand that sells snacks and fishing gear. Read more>>
Anacostia Park - Anacostia Park is operated by the United States National Park Service. The park features playgrounds, playing fields and the Anacostia Riverwalk Trail. It also houses the only free aquarium in Washington, DC! DOEE's Aquatic Resources Education Center is located in the north end of the park and features over 40 species of local fish, amphibians, and reptiles. Anacostia Park also has a boat ramp and is a great place to fish from shore.
Hains Point - Hains Point is at the southern tip of East Potomac Park in SW and offers beautiful views of the Potomac River, Anacostia River, and the Washington Channel. Fishing is one of the popular recreational activities in this park.
Diamond Teague Park - is a public plaza with water taxi and public piers at the terminus of First Street at the Anacostia River across from Nationals Park. On Friday evenings, Anacostia Riverkeeper hosts free fishing nights at the park from June to August. Visit the Anacostia Riverkeeper website for more details!
Additional Resources