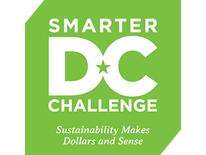 The Smarter DC Challenge is a no-cost green business engagement program that will create a culture of sustainability in the District by transforming one thousand businesses, organizations, and institutions into sustainability stewards and champions by 2020.
Created with support from the Green Building Fund, this program encourages businesses to incorporate green practices into their operations. The Challenge is designed to help organizations and buildings reduce resource consumption including energy, water, waste and non-renewable materials through friendly competition. The Smarter DC Challenge creates leaders through in person and web-based educational seminars, peer-to-peer learning, and friendly competition. The project is a continuation of a pilot program started by the DowntownDC Business Improvement District (BID) in 2013 and managed by Greenspace, NCR, and Eco-Coach through September 2016.
To sign up and for more information visit Smarter DC Challenge.
For full program details, contact Mary Lynn Wilhere, Urban Sustainability Administration, at (202) 535-1939 or [email protected].