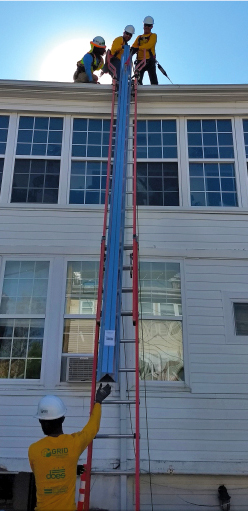 The District's Sustainable DC initiative establishes goals and targets for responding to climate change. Additionally, the Clean Energy DC (CEDC) Omnibus Act of 2018, raised the percentage of solar energy carve out in the District from 5% to 10% by 2041. Conventional forms of energy emit carbon dioxide and other pollutants into the environment, while solar energy is emissions free.
Rooftop solar generation is the leading strategy for generating local, clean energy in the densely developed District. Installing solar panels on your home or business is one way that you can help the District achieve its greenhouse gas emission reduction goals. In addition, rooftop solar not only benefits the environment but it can also reduce your annual energy costs.
Solar For All

The Renewable Portfolio Standard Expansion Amendment Act of 2016 established the District's Solar for All Program (Solar for All). The Act intends to increase the amount of solar generated within the District, providing the benefits of locally-generated solar energy to low- to moderate- income households, small businesses, nonprofits, and seniors.

Solar for All's overall mission is to provide the benefits of solar electricity to 100,000 low- to moderate- income households, by reducing their electric bills by 50% by 2032. Eligible District residents can participate in Solar for All through the single family solar or community solar programs if their household income is at or below 80% of the area median income (AMI) threshold. Read more & Apply >>



Solarize DC
Solarize DC is a community-based outreach initiative to bring solar power to District residents in their homes and businesses throughout the city. Many residents are interested in solar but do not know are where to start. DOEE has teamed up with EnergySage to help District residents make the switch to solar energy by installing solar panels on their property or subscribing to a local community solar farm. View EnergySage resources and information below. Got questions? Reach out to our team at [email protected].
Solar Job Training - Solar Works DC
Solar Works DC is the District's premiere solar photovoltaic system installation and job training program. The Program operates a comprehensive year-round training program for District residents. Read More>>

Energy Education: Request a presentation or materials about energy and resource conservation for schools k-12. Read More>>
How Does Solar Work?



Solar energy is energy from the sun. One way the sun's energy can be harnessed is by using photovoltaic (PV) panels. PV panels and related equipment work by converting the sun's rays (photons) into electricity we can use (electrons). Learn more >>
Four Easy Steps to Going Solar in DC
Find your site potential using the DC Solar Tool.

Sign up for a free account to research, compare quotes from vetted installers near you, and get financing options.
(Solar Contractors and Installers)

Decide what is best for you — buying or leasing the solar system, or subscribing to community solar (a great option with no upfront costs if you rent or don't have a roof ideal for solar). Visit CESA and/or DC SUN to learn more about solar financing.

Install and enjoy the benefits!
Area installers will help you select the best system(s), guide you through the application processes for incentives and SRECs, and answer any questions you may have about how best to proceed.
Additional resources are available from DOEE. Contact DOEE to learn about our full range of energy-related programs that help District residents, businesses and property owners clean our air while growing our local economy.
A helpful checklist for consumer's protection is available at IREC's Consumer Solar Checklist.
Frequently asked questions about going solar in Washington, DC
How does community solar work?
Community solar projects generate and distribute solar energy to the electric grid. As a subscriber, you're able to purchase a share of this energy (typically at a discount) which shows up as credits on your electric bill and reduces what you owe your utility company. Learn more about community solar.
What does community solar cost?
Community solar has no upfront costs or long-term commitments. Better yet, when you subscribe, you can save on your electricity bills by supporting local solar projects. On average, you'll save between 5-15% annually on your electric bills with community solar. Learn more about how community solar costs fluctuate.
What does your electric bill look like with community solar?
If you subscribe to a community solar project, you'll receive two bills: one from your utility company like Pepco (your electric bill) and another from your community solar provider. Due to the seasonality of solar and electricity usage, your bill credits and energy usage likely won't line up 1:1 each month. Learn more about community solar billing.
You can easily find out a list of local DC solar farms accepting new subscribers in your area through our partner EnergySage's Community Solar Marketplace.
Is your roof a good candidate for solar?
You will need to have local DC solar installer assess your roof to see if it's a good fit for solar. Most standard roofs work well for installing solar panels including metal seam roofs, Spanish tile roofs, and asphalt shingles. However, some flat roofs may require a more significant investment to make solar panels work efficiently. You can use a solar calculator to estimate what solar would cost to install at your home. If your roof isn't a good candidate for solar, you can still use community solar to save money and help the environment.
What are the benefits of going solar?
First and foremost, most people who go solar save money by doing so. With higher electricity rates in DC compared to many other areas throughout the country, solar panels can pay off even more quickly. While there's an initial cost to installing a solar system, you'll be eligible for several solar incentives in DC including:
SRECs: Solar Renewable Energy Certificates essentially mean that you can make money on electricity that your solar panels produce that you don't use. In 2021, SRECs in DC sold for prices between $365 and $435 – higher than anywhere else in the country! On the lower end of that range, an 8 kilowatt system that generates 8 MWh annually would earn you an extra $2,920 each year.
Net metering: Washington D.C. has a net metering policy that credits you for the extra electricity your system produces. This allows you to use those credits when your system doesn't generate enough power. Pepco offers the top utility net metering program in the DC area.
Federal investment tax credit (ITC): provides a 26% tax credit on your solar installation costs.
You can also help reduce your reliance on fossil fuels and help the environment by going solar.
What are your options to pay for solar?
You can essentially use three different options to pay for solar — cash, solar loan, or solar lease (also known as power purchase agreements or PPAs). Paying with cash means you avoid additional costs such as interest or solar loan fees. However, solar loans can help you reduce upfront costs and help you start saving money sooner.
What if I can't install solar where I live?

Solar operates most efficiently when there is direct access to sunlight. In some cases, rooftops may not be suitable for a solar system because of shading from trees, the direction you roof faces, or the age of the roof or its support system. If your home is not suitable for rooftop solar or if you rent your home or apartment, an option might be subscribing to a community solar system. If your home is not suitable for rooftop solar or if you rent your home or apartment, you can save money by subscribing to a community solar system. By subscribing to a community solar project, you can get credit on your electric bill for the solar energy generated at a solar farm.
Community solar is a way to allow members of a community the opportunity to share the benefits of solar power even if they cannot or prefer not to install solar panels on their property. By subscribing to a community solar project, you can get credit on your electric bill for the solar energy generated at a different location. Learn more about Community Renewable Energy Facilities in the District by visiting Pepco.

Also, with DC Power Connect, residents can select an approved clean energy supplier. These companies may purchase, broker, aggregate or market energy for sale to customers. Please contact the Public Service Commission if you have any questions about a particular supplier or how to switch providers.
Financing Options for Solar

The price of solar PV systems has dramatically decreased in recent years and there are multiple routes to help finance solar installations. Review the District Consumer Solar Financing Guide for more information (Spanish version also attached below).

What are Solar Renewable Energy Credits?

The District's Renewable Portfolio Standard (RPS) requires electric suppliers to secure a portion of their electricity from solar generators which has created a vibrant local market for Solar Renewable Energy Credits (SRECs). A SREC is a market-based instrument that represents the property rights to the environmental, social and other non-power attributes of renewable electricity generation. SRECs are issued when one megawatt-hour (MWh) of solar electricity is generated and can be sold in the SREC market. Learn more about SRECs at EPA. Learn more about SRECs at EPA.
Quick links:
Contact Us
For more information about solar initiatives in the District, contact the DOEE Solar Hotline at (202) 299-5271 or [email protected].