Beekeeping is legal in the District of Columbia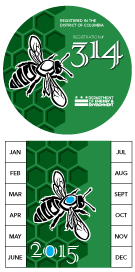 The Sustainable Urban Agriculture Apiculture Act, part of the Sustainable DC Omnibus Amendment Act of 2014, made beekeeping in the District legal.
As part of this act, beekeepers are required to register all colonies being kept in the District as well as obtain a permit from DOEE prior to any interstate transport of a colony, portion of a colony, bees on combs, empty used combs, used hives, or any other used apiary appliance.
Requirements for beekeepers
All colonies in the District must be registered
with DOEE within 30 days of colony establishment.
- Registration Document (also attached below).
A permit must be obtained from the Department prior to transporting any colony, portion of a colony, bees on comb, empty used combs, used hives,
or any other used apiary appliance into or out of the District.
All colonies must be kept in a hive with removable combs, such as a Langstroth-type hive or a Top Bar hive.
Adequate space in the hive to prevent overcrowding and swarming.
The beekeeper is responsible for remediation of bee swarms and nuisance conditions.
All colonies must be provided with a convenient, adequate, and constant source of water.
A beekeeper shall not keep more than four hives on a single property unless the property is greater than one-quarter acre (10,890 sq. ft.) or they have permission from the Department. (regs.§1525)
A hive must be located at least 15 feet from a property line, unless other conditions are met. (reg.§1525)
The possession of Africanized bees is prohibited!
Additional information can be found at DC Regs.
Enforcement
Failure to follow the Sustainable Urban Agriculture Apiculture regulations could result in fines and other penalties.
Questions?
For further information, please contact Natasha Garcia Andersen at [email protected] or 202-870-6004.
Press Release: Beekeepers Considered Essential Employees. Must Continue to Follow Social Distancing Rules. Read More>>