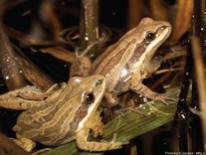 FrogWatch Citizen Science Program
Join FrogWatch USA!
You can contribute to amphibian conservation in your community! DOEE FrogWatch Chapter Volunteers collect and submit data on calling frogs and toads at wetlands throughout the District. These important data are reviewed by DOEE biologists and compiled for FrogWatch USA in a national database where professionals and members of the general public alike can explore trends in frog and toad breeding across space and time.
Frogs and toads are amphibians that live in and around streams, ponds, and other wetlands. They are sensitive to pollution and their presence can act as an indicator of a healthy environment. Amphibians also have important roles in the food web, controlling insect populations and providing food for other animals. As a member of the DOEE FrogWatch Chapter, you will be a citizen scientist who helps gather supplemental information that can support important efforts like the District of Columbia Wildlife Action Plan, Habitat Restoration Program, Wetland Mapping and Registry Project, DC Environmental Literacy Plan, and aquatic resources education in the District.
Read more about FrogWatch USATM, a nationwide frog and toad monitoring program hosted by the Association of Zoos and Aquariums.

Volunteer Commitments
Prospective DOEE FrogWatch Chapter Volunteers should:
Participants aged 10 and up are welcome; minors under the age of 18 must be accompanied by a parent or guardian. DOEE staff will work with volunteers to locate and register a convenient and accessible wetland. Additional volunteer roles and responsibilities are detailed during an in-person chapter training session. A DOEE FrogWatch Coordinator is available to mentor volunteers and answer questions and can be reached via email or by calling 202.440.3951.
New Volunteers: Attend a Training Session
Volunteer training sessions are held annually, and are typically scheduled in late winter/early spring, and prior to the peak breeding activity of local frogs and toads (March through August). The sessions consist of two hours of classroom time to discuss FrogWatch USA program goals, scientific protocols and wetland site selection as well as orient participants to the frog and toad species that may be heard calling during spring and summer months in the DC-Metro region.
Register online to attend a training session. For more information email [email protected] or call 202.440.3951.
Returning Volunteers
Welcome back and thank you for your commitment to monitoring the District's frog and toad populations and associated stream and wetland habitats. Because you received training previously, we hope that you will continue to lend your time and talents to this year's monitoring. DOEE FrogWatch Chapter Volunteers may monitor in the District as well as in surrounding counties in Maryland and Virginia. Did you received training but did not monitor in previous years? No problem! We are pleased to have your participation this season.
Volunteers are strongly encouraged to continue visiting previously registered sites in order to compile long-term data at individual locations. Download the DOEE FrogWatch Site Registration Form (attached below) and DOEE FrogWatch Monitoring Observation Form (attached below) and contact a DOEE FrogWatch Coordinator via email to continue your participation. Please note that it is not necessary to submit an additional site registration form if one was submitted previously unless you are providing updated information.
Volunteers may locate and register new stream/wetland sites or can work with a DOEE FrogWatch Coordinator to adopt a DOEE FrogWatch site on Kingman Island (Wards 5&7), along Pope Branch (Ward 7; post-stream restoration), in Alger Park (Ward 7; pre-wetland restoration), and along Watts Branch (Ward 7; post-restoration). If a site has not yet been established in an area, you may be asked to visit a location to determine if monitoring is feasible. Volunteers living in and around the Forest Hills Community are invited to monitor at sites designated along Broad Branch (Wards 3&4), a tributary to Rock Creek, in accordance with National Park Service Permit restrictions.
No additional training is required for previously trained volunteers, but please contact a DOEE FrogWatch Coordinator via email or by calling 202.440.3951 to continue your participation in the program.
What have we learned from your monitoring? Read the 2016 data summary (attached below) and discover more about Habitat Restoration in the District. Please note that citizen science data and results are subject to ongoing review and revisions and should be treated as provisional.
DOEE FrogWatch Monitoring Resources
DOEE FrogWatch Chapter Volunteers should email completed Site Registration Forms and Observation Datasheets to [email protected].
Amphibian and Wetland Information
Want to learn more about amphibians and wetlands in the District and across the United States? Schedule a program and tour at the Aquatic Resources Education Center or check out these additional resources: