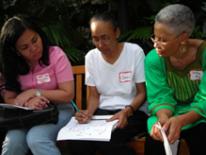 DOEE offers a suite of professional development training opportunities to formal, informal, afterschool, and homeschool instructors for grades Pre-K through 12 that help fulfill the standards for teaching and learning and provide guidance on how to aid learners in developing environmental awareness and science literacy. Aquatic WILD, Growing Up WILD, Project WILD , and Project Learning Tree are internationally recognized conservation education programs that provide content knowledge, critical thinking, and problem solving skills to youth to help them make prudent environmental decisions and foster stewardship of our nation's natural resources. Each program includes curricula featuring hands-on, inquiry-based lessons that are aligned to national education standards.
Workshop Registration and Inquiries
Educator Workshop Summaries
Workshops are FREE and sessions range from 3 to 8 hours depending on program type and content focus. Participants receive complimentary classroom-ready, user-friendly instructor guides, a certificate of completion, and access to a variety of additional resources and networking opportunities with other educators. DCPS teachers are eligible for Professional Learning Units when attending trainings conducted outside of school hours. Workshops are typically conducted at the Aquatic Resources Education Center, but may be scheduled elsewhere based on interest and workshop facilitator availability.
Aquatic WILD is an environmental education program featuring inquiry-based lessons and hands-on activities for learners in grades K-12 that focus on aquatic ecology, watershed science, and water resources. Lessons include cross-discipline applications, STEM extensions, career connections, and field investigations that are aligned with Next Generation Science Standards and A Framework for K-12 Science Education.
Navigate the waters of your complimentary Aquatic WILDTMK-12 Curriculum and Activity Guide, data exploration techniques, and best practices for conducting field investigations in this 4-6 hour workshop. Workshops are typically offered in Fall and Winter during evenings and weekends.
Growing Up WILD is a multi-award winning early childhood education program targeted at learners aged 3 to 7, and other sensory focused individuals, that invites learners to explore wildlife and the world around them. The 27 field-tested, hands-on, nature-based thematic units and associated 400 experiences are correlated to NAEYC Standards and Head Start Domains.
This 3-4 hour workshop introduces the complimentary Growing Up WILD: Exploring Nature with Young Children activity guide, stresses developmentally-appropriate practices and the importance of nature play and discovery in early childhood, and provides tips and resources for accessing nature.
Project WILD is a wildlife-focused conservation and environmental education program for K-12 educators and their students. The program's goal is to develop awareness, knowledge, skills, and commitment to ultimately result in informed decision making, responsible choices, and constructive action concerning wildlife and the environment.
Project WILD workshops are hosted by DOEE partners. They are 4-6 hours in length as standalone sessions but are most often held as combination workshops with Aquatic WILD and Project Learning Tree for 8+ hours once annually.
Project Learning Tree (PLT) uses trees and forests to build connections and increase students' understanding of the environment and actions that can be taken to conserve it. Project Learning Tree produces a variety of resources available through in-person and online training opportunities.
PLT K-8 is a 6 hour workshop that explores the Pre K-8 Environmental Activity Guide and highlights integrated teaching methods and strategies. PLT EC is a 3 hour workshop for educators and care providers of children ages 3 to 6. Participants become familiar with the Environmental Experiences for Early Childhood education guide and investigate ways to facilitate young learners' abilities to explore, discover, and communicate in expressive ways and engage them in outdoor exploration and play.
Combined workshops featuring more than one of the aforementioned programs are offered on an annual basis. 8+ hour workshops may include Aquatic WILD + Project WILD, Aquatic WILD + PLT K-8, and Growing Up WILD + PLT EC.
Email the Aquatic Resources Education Center or call (202)440-3951 with inquires.
Facilitator Training
Facilitator training is for educators and instructors who would like to become certified to lead workshops in Project Learning Tree, Aquatic WILD, and Growing Up WILD. A combined workshop for K-12 (Aquatic WILD + Project Learning Tree K-8) or Early Childhood (Growing Up WILD + Project Learning Tree EC) is usually offered for a full day, every other year, or whenever there is enough interest. Facilitators are expected to maintain communication with the District representative for each program and contribute data to annual reports. Please email the Aquatic Resources Education Center  or call (202)440-3951 for more information.