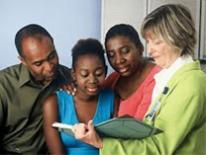 Who We Are
The Lead and Healthy Housing Division runs the District's Childhood Lead Poisoning Prevention Program and is charged with conducting active surveillance on lead exposure, charting epidemiologic patterns of exposure and monitoring childhood screening trends. The Division responds to incidents of lead exposure with medical care coordination for families, home lead inspections, and monitoring and enforcement activities as necessary. As a healthcare provider, District law and common practice make you a key partner in the effort to prevent lead exposure.
Public Health Response Trigger for lead changes from 10 µg/dL to 5 µg/dL The U.S. Centers for Disease Control and Prevention now uses a reference level of 5 µg/dL to identify children who have been exposed to lead and require case management. Learn more about what this means for those you serve.
Talking to Caregivers: Anticipatory Guidance
Protecting children from lead means more than just screening. Providers should engage parents/guardians about conditions that put their children at risk. Here's a guide to environmental health screening.
Lead Screening
District law requires ALL children to be tested twice by two – once between 6-14 months and again between 22 and 26 months. But there are also other specific circumstances that trigger screening requirements.
Diagnosing and Managing Lead Exposures
The District monitors all lead screenings conducted in the District and oversees an immediate emergency response for lead levels above 45 ug/dL. Here are the official District recommendations on the diagnosis and management of lead toxicity in children.
Resources for Healthcare Providers