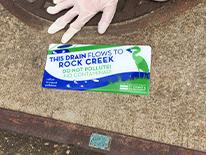 Why mark storm drains?
Storm drains collect untreated stormwater that runs off of our streets. This stormwater carries pollutants such as grease, oil, pet waste, and fertilizer with it as it flows directly into local streams and rivers, and eventually into the Chesapeake Bay. Storm drain markers, like the one shown below, help spread the message that we all play a role in keeping our waterways clean.
Who can participate?
Storm drain marking is a hands-on volunteer activity for both individuals and groups in the District of Columbia. School groups (all grades), Scouts, church groups, small businesses, local non-profit organizations, and others are all welcome to volunteer.
Which storm drains have already been marked?
Zoom in to your neighborhood to see if the storm drains on your street have already been marked.
We're always working on updating our records, and you can help! If you see a storm drain that has been marked, but isn't included on this map, let us know. Likewise, if our data includes a storm drain marker that isn't really there, let us know. Email [email protected] or call (202) 934-1025.
Get involved—mark storm drains!
DOEE will provide you with a storm drain toolkit free of charge. This toolkit includes:
Storm drain markers
Adhesive
Brushes
Door hangers
Field sheet to record marked drains
All unused markers and materials must be returned to DOEE.
Storm drain marking can be done most months of the year, as long as temperatures are above 45 degrees and the weather is dry. DOEE staff can come for an onsite demonstration with sufficient advance notice. You can mark storm drains in your neighborhood, or in other parts of the city.
For more information about storm drain marking or to request a storm drain marking kit, please contact [email protected] or call (202) 934-1025.