The mission of the Planning and Restoration Branch of the Watershed Protection Division is to conserve the soil and water resources of the District of Columbia and to protect its watersheds from pollution through education and outreach, stream and habitat restoration, innovative stormwater management and watershed planning.
The Branch manages both the District's Chesapeake Bay and Nonpoint Source Management implementation grants from the U.S. Environmental Protection Agency.
The primary functions of the Branch are: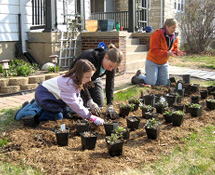 This program encourages pollution prevention by carrying out effective information and education activities and increasing stakeholder awareness and involvement in the clean-up efforts in the Anacostia River, Chesapeake Bay, and other neighborhood watersheds. Some ongoing education and outreach efforts that Branch oversees include:
This program works to protect and restore river, stream and wetland habitats in the District of Columbia and the Chesapeake Bay so as to increase a watershed's ecological diversity and protect the health, welfare, and safety of its inhabitants.
- Innovative Stormwater Management Program
This program actively reduces pollution to our local waterways through funding new and pioneering ways to reduce stormwater pollution and through administering DOEE's RiverSmart programs that provide incentives to property owners to take action to reduce stormwater pollution on their properties.
Watershed Planning Program
This program works to develop and implement plans for restoring the water quality of our local waterways. These documents are the District's guide to creating fishable and swimmable rivers. The plans are living documents that periodically revisited and updated.