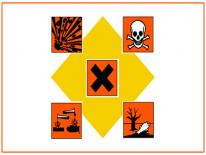 The Hazardous Waste Program protects human health and the environment from the hazards of mismanaged waste, helps reduce the amount of waste generated, and ensures that generated wastes are managed in an environmentally sound manner. Facilities that generate, transport, treat, store, or dispose of hazardous waste are regulated to ensure proper management of hazardous waste from the moment it is generated until its ultimate disposal or destruction.
If your facility generates Hazardous Waste, Universal Waste, or Used Oil in the District you must obtain an EPA Identification number through this program.  Click here for information on registering as a Hazardous Waste Generator.
Outreach: Below, the Hazardous Waste Program published several documents to help businesses and residents understand hazardous and other waste, and their proper disposal.
Facilities. Facilities include all entities that are not households including, but not limited to:  businesses, non-profits, and government agencies.
Residents.  Please note that waste generated by households in the District of Columbia are not regulated by the Hazardous Waste regulations.  The information provided below is guidance and best practices.
To report hazardous spills call 911.  After the spill is under control, contact District's Homeland Security and Emergency Management Agency at 202 727-6161 and DOEE-HWP at 202 671-3308. 
For more information contact one of the following inspectors:
Barbara Williams (Branch Chief) - 202.654.6031  [email protected]
Victoria North - 202.535.1909  [email protected]
Lawrence Williams - 202.535.2298  [email protected]
Stanley Tam - 202.671.5120 [email protected]
Related Content: 
Hazardous Waste Laws and Regulations
Underground Storage Tanks FAQs