What is the environmental impact of a material across its life cycle? Sustainable Materials Management examines the environmental impacts of materials from resource extraction for design and production to end-of-life management including reuse, recycling, and solid waste disposal.
We also evaluate what actions you can take to reduce a material's impacts — from waste diversion and resource recovery, to product stewardship and sustainable purchasing. All of these actions contribute to achieving the District's sustainable materials management goals.
About Waste & Resource Recovery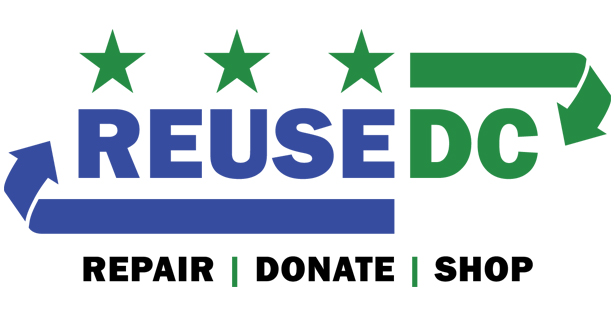 Donation and Reuse - DOEE is committed to a waste management hierarchy that prioritizes source reduction and reuse over other forms of waste diversion. To achieve this, DOEE launched Reuse DC - the District's hub for learning where to repair, donate, and shop second-hand household items. Search the online directory, explore how to exchange items with your neighbors, learn about the importance of food recovery, and more! Visit Reuse DC to learn more.
Getting new value out of otherwise wasted resources improves human and environmental health, reduces greenhouse gas emissions, and creates jobs.
- ReuseDC Informational Brochure
DOEE programs addressing repair, reuse & recovery:
Waste Diversion & Resource Recovery
Through the Sustainable DC Plan, the District has committed to sending zero waste to landfills and incinerators and reducing waste generated by 15% by 2032. A major pillar of this plan involves diverting 80% of waste citywide. Visit Zero Waste DC for the most recent Solid Waste Diversion Report. DOEE contributes to achieving these goals by developing programs, strategies, and incentives to advance source reduction, reuse, recycling and composting citywide.
Zero Waste Events
Events are a great way to bring together community members for a common cause or celebration, but they can also generate a lot of waste. To help solve that problem, the Department of Energy and Environment (DOEE) and Department of Public Works came together to develop the Zero Waste Event Guide! The guide is short and easy-to-use. It includes tips for before, during, and after the event. Take a look through the guide as you plan your next event and you'll be helping the District reach its goal of diverting 80% of waste from landfill or incineration (including waste-to-energy) by 2032.
Product Stewardship
The District is making it easier for people to reuse, recycle, or properly dispose of paint, electronics, and batteries by passing laws that require producers to develop systems to pay for and manage the end-of-life of their products. Here are the details on product stewardship programs in the District:
Batteries: Call2Recycle, the District's battery stewardship organization, developed a plan for the collection and recycling of household batteries that DOEE approved on August 4, 2023. The plan is required to be implemented by November 2, 2023. Stay tuned for more information.
Email [email protected] with the subject "Add to battery program launch list" to be added to a listserv to be notified when the collection and recycling program is launched.
In the meantime:
- Producers of batteries or battery-containing products: learn about your responsibilities
- Locations interested in becoming battery collection sites for the District's program: review this letter discussing the responsibilities involved and how to learn more, and contact Call2Recycle staff, Todd Ellis, at [email protected].
As of August 1, 2023, D.C. Official Code § 8-771.09 bans the disposal of single-use and rechargeable household batteries in the trash. These items must be properly recycled.
To recycle batteries now, find a location that accepts rechargeable batteries for recycling, recycle batteries at Department of Public Works' events at RFK Stadium Lot 3 starting in July 2023 or, for a fee, order a mailback kit from Call2Recycle, Big Green Box, or Cirba Solutions to ship batteries off for recycling. If your business has a single-use battery recycling program and would like to be added to this list until the stewardship program starts up, please let us know.
Electronics: District residents, small businesses & small nonprofits can recycle a range of covered electronic equipment including televisions, computers, printers, DVD players and related items at convenient events around the city. These items are also banned from the trash.
- Learn more about how and where to recycle your electronics.
Paint: District residents and businesses have many options to properly manage leftover paint and to ensure the value is recovered. Learn more about paint recycling.
Sustainable Purchasing
The District's sustainable purchasing program helps agencies buy goods and services that have a reduced impact on the environment while maintaining an affordable cost. Through its sustainable purchasing program, the District is decreasing the purchase and use of toxic chemicals and buying more products that contain recycled content, conserve water and energy, and can be safely refurbished, recycled, or composted at the end of the product's useful life. Learn more about the sustainable product specifications and implementation of sustainable purchasing.
Green Food Purchasing Program
Passed in 2021, the Green Food Purchasing Amendment Act requires all District agencies that procure food and beverages to adopt a methodology to reduce the greenhouse gas emissions associated with purchased food and beverages by 25% by 2030. Food production accounts for nearly a quarter of global greenhouse gas emissions, and animal-source foods generate two-thirds of all food-related emissions. To reduce the District's food-related GHG footprint, DOEE is partnering with the World Resources Institute (WRI) to conduct a baseline assessment of agencies' food-related emissions and develop food procurement best practices. The District is a signatory of WRI's Cool Food Pledge, which helps cities, restaurants, hospitals, universities, and other institutions reduce their food-related emissions. Learn more >>
Learn More about Sustainable Materials Management