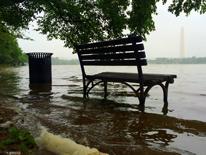 The District is already experiencing the impacts of human-made climate change. Climate change refers to long-term changes in global temperature, precipitation, wind patterns, and other aspects of climate. These global changes have serious consequences for the District. In the past few years, the District has seen record-breaking extreme weather (like heat waves and snowstorms), higher tides caused by rising sea level, heavy rains, flooding, and warmer temperature averages. The District Government is approaching climate change from two sides: adaptation and mitigation.
Climate Adaptation
Adaptation means preparing District residents, neighborhoods, buildings and infrastructure for the impacts of climate change, including extreme heat, increased precipitation, more dangerous storms and sea level rise. Learn more about how the District is preparing for the impacts of climate change.
Climate Mitigation
Mitigation refers to reducing emissions from the following greenhouse gases (GHGs) that intensify climate change—carbon dioxide, methane, and nitrous oxide.
Commission on Climate Change and Resiliency
The District of Columbia Commission on Climate Change and Resiliency (DC-CCCR), established in 2016, provides an independent perspective on the District's actions to reduce greenhouse gas emissions and adapt to a changing climate. Composed of 16 experts, the DC-CCCR reviews the District's plans, policies, and programs and recommends priorities to City Council and the Mayor's Office. The DC-CCCR is driven by equitable and meaningful solutions that will serve residents, protect critical infrastructure, and advance economies.