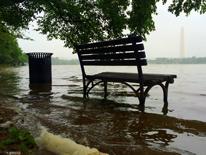 Recognizing that climate change is already impacting the District of Columbia, the city is taking steps to prepare for change through its Climate Ready DC plan. At the same time, the District is committed to reducing its own contribution to the greenhouse gas emissions that cause climate change. Sustainable DC established the District's commitment to reduce greenhouse gas emissions by 50% below 2006 levels by 2032 and Clean Energy DC provided a roadmap for how to get there. And in December 2017, Mayor Bowser pledged to make the District carbon neutral and climate resilient by 2050.
Getting to Carbon Neutrality by 2050
Our commitment: In December 2017, Mayor Bowser pledged to make the District carbon neutral and climate resilient by 2050, in recognition that tackling climate change is part and parcel of a broader commitment to uphold the values of health, opportunity, prosperity, and equity for all District residents.
Why carbon neutrality? Like balancing a checkbook, being carbon neutral means we cannot send more greenhouses gases into the atmosphere than we remove, in any given year. Carbon neutrality is an important goal because climate change is fueled by the total concentration of greenhouse gases in the atmosphere. If we have more than zero net emissions, we are contributing to the climate crisis by adding to the cumulative total of greenhouse gases.
What is the District doing? Slashing our carbon pollution will require both imagination and bold action to address our citywide emissions, from reimagining our streets, to repowering our homes and buildings with clean, renewable energy. We must transform three key sectors – buildings, transportation, and waste – and while we have an understanding of what the science requires us to do, there are many pathways we can take to get there. The District has made a commitment to taking bold action on climate and to prioritize solutions that advance racial equity.
In 2020, DOEE will be working with input from the community, stakeholders, and DC government agencies to craft a strategy to reach net-zero carbon by 2050. To learn more & get involved in the development of the carbon neutrality strategy, RSVP for one or more of the Carbon Free DC Virtual Engagement Series Sessions.
Catch the materials from our kickoff sessions where we shared our initial findings about what we must do to achieve our target, and how we will approach bold climate action prioritizing solutions that advance racial equity.
Then join us for a series of follow-up discussions on specific topics related to buildings, energy, and transportation. At these sessions we will identify possible policy solutions that cut carbon emissions, but also improve equity and resilience, particularly for the District's communities of color and those at greatest risk to climate change.
Conversations on Buildings:
Housing Affordability - Wednesday, 9/23, 2-3pm
Preserving and expanding affordable housing at all levels is central to our approach to carbon neutrality. This focused discussion will center on strategies to support green, healthy, and affordable housing, and ideas for addressing the specific challenges for affordable housing providers.
 
New Construction & Embodied Carbon - Wednesday, 9/23, 3-4pm
Each new building being constructed today is locking in future carbon emissions, and that's why Clean Energy DC set a target of establishing net-zero energy building codes by 2026.This focused discussion will explore both how we support a transition to net-zero operational carbon in buildings, but also how we can take steps to address the embodied carbon in the materials we use.
 
Electrification – Monday, 9/28, 3-4pm
To meet our 2050 carbon targets, we must transition away from fossil fuels for heating and cooking. Electrification also offers opportunities to improve indoor air quality and safety in our homes. This discussion will center around strategies and timing for how to approach electrifying buildings in the District, as well as other strategies to think about managing demand and pushing toward a cleaner electric grid.
 
Existing Building Efficiency - Wednesday, 9/30, 2-3pm
By 2050, the average home will use 60% less energy than today. Tackling the efficiency of our existing buildings can produce significant carbon savings, and also offer opportunities to improve comfort and affordability for residents and workers. This focused discussion will explore ideas for small buildings and single-family residences, as well as additional strategies to build on the existing Building Energy Performance Standards.
Conversations on Transportation:
Mobility and Mode Shift – Thursday, 9/24, 11am – 12pm
Electrification -- Thursday, 10/1, 10am – 11am
Other Resources:
Clean Energy DC: The roadmap to cut greenhouse gas emissions by 50% by 2032, through cutting energy use and increasing the use of renewable energy.
Climate Ready DC: The District of Columbia's plan to adapt to a changing climate.
Greenhouse Gas Inventories: measuring progress towards minimizing the District's climate impact.