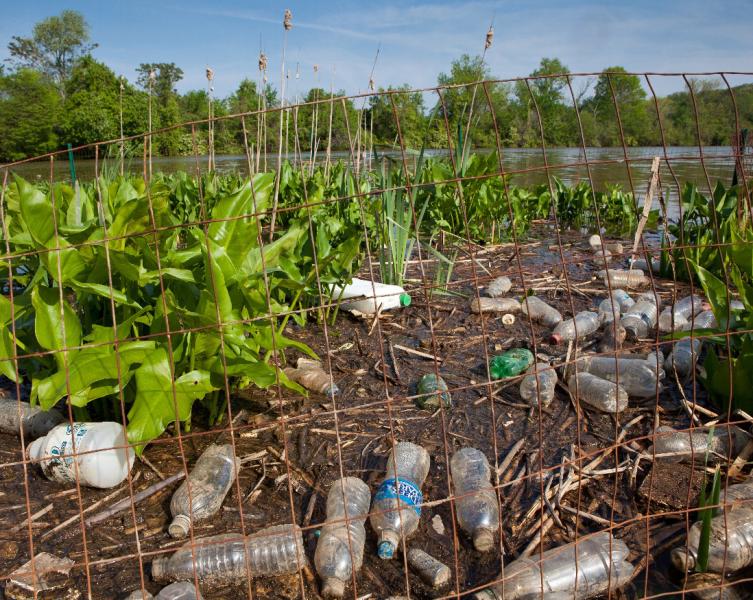 Have you ever walked down your block and noticed empty bottles, used straws, candy wrappers, or other litter? Did you know that not only is trash an ugly and annoying sight in our neighborhoods, but it washes from our roads, sidewalks, and playgrounds to our local streams and rivers any time it rains?
The Anacostia River, which runs mostly through Northeast and Southeast DC, has a long history of problems with trash, with millions of people living, working, and driving through its watershed every day. Trash is ugly and stops people from using the river as a place to recreate and enjoy themselves. In addition to being unsightly, plastic pollution harms our wildlife, rivers, and communities. Animals get tangled in soda can rings or strands of plastic, and fish and birds often mistake small plastic pieces as food. Most plastics are made from fossil fuels, and their chemical components can leech into the water along with toxic chemicals that stick to their surface.
Anacostia Facts: The Anacostia River Watershed covers portions of the District, Prince George's County, Maryland, and Montgomery County, Maryland. The watershed is approximately 176 square miles (456 sq. km.) in area and roughly 25% of its land area lies in the District. The river is entirely tidal in the District while the upstream land area in Maryland is primarily non-tidal.
The chemical bonds in plastic are more likely to break down over time and as the result of being exposed to sun, wind, waves, and increasing temperatures due to climate change. Furthermore, larger plastics can break down into microplastics (particles <5mm, about the width of a pencil eraser) and can be consumed by wildlife, entering the food chain and eventually ending up in humans via seafood.
DOEE knows trash is an important problem to solve to protect not only our rivers but our residents. Education, research, policy, and trash capture are all important ways to help prevent trash from polluting our city. Scroll down to learn more about the important work DOEE and partners are doing to reach our goal of a Trash Free DC.
Policy and Enforcement | Education | Community Engagement
Trash Capture | Monitoring, Research, and Partnerships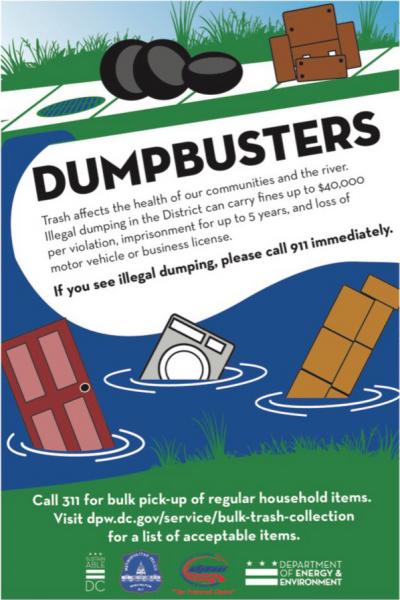 Policy and Enforcement
The District has several laws and policies aimed at reducing some of the most common types of trash we see littering our neighborhoods and polluting our waterways, especially plastics. Many of these policies came about after a 2008 study on trash in the Anacostia River, funded by DOEE and conducted by the Anacostia Watershed Society
District laws and policies targeting trash include the Bag Law, the Foam Ban, and the Material Requirements for Food Service Ware, which include the Single-Use Plastic Straws and Stirrers Ban. DOEE is responsible for the outreach and enforcement of these policies.
DOEE also works across agencies to target trash. For the DumpBusters Illegal Dumping Enforcement Program, DOEE works with the Metropolitan Police Department Environmental Crimes Unit and the Department of Public Works (DPW) Solid Waste Education & Enforcement Program on illegal dumping enforcement throughout the District. People are encouraged to call 911 if they see illegal dumping occurring; to report dumping that has already occurred, call 311. Contact Matt Robinson ([email protected]) for more information.


Education
Human behavior like littering or overfilling trash cans is a major reason for river pollution. DOEE has various efforts to educate our residents, students, and communities about the connection between trash on land and in the river, as well as best practices for reducing trash and changing the culture around littering.
Community Engagement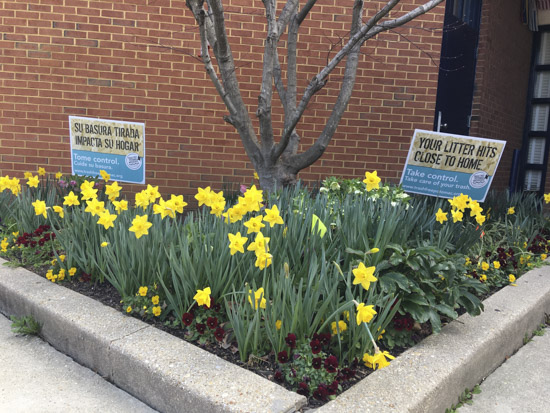 People can be part of the problem when it comes to trash, but they're also an important part of the solution! Members of the public interested in being part of cleanup efforts have many options to choose from, ranging from one-time cleanup events to longer-term commitments. DOEE funds local groups to organize cleanup events and students can earn community service hours for participating.
Local partners organize their own cleanup events, including the ones listed below. Please reach out directly if you're interested in participating.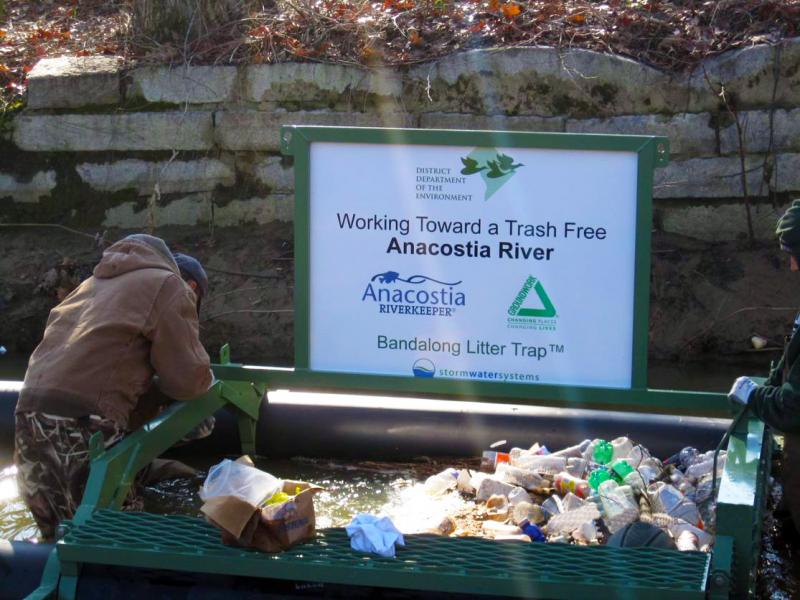 Trash Capture
Since 2009, the District has installed nine trash traps throughout the Anacostia River watershed. Collectively, the traps have captured more than 70,000 pounds of trash and debris. DOEE uses revenue collected from stormwater fees and the Bag Law to fund community organizations through grants to monitor and maintain these devices.
In addition to trash traps, other ways the District government works to capture and remove trash from the watershed and/or the river include:
Contact Matt Robinson ([email protected]) for more information on the District's trash capture efforts.
Monitoring, Research, and Partnerships
DOEE participates in ongoing research and trash reduction efforts with local and federal partners. For more information on these projects, contact Matt Robinson ([email protected]).