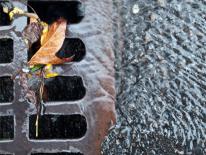 What is stormwater?
Stormwater is excessive rainfall that does not soak into the ground, but instead flows over the land's hard surface into the nearest water body through storm drain channels.
Why is stormwater a problem?
Stormwater is a problem because it carries a lot of pollution along with it wherever it flows. In urban areas such as the District, much of the land is covered by impervious surfaces such as streets, buildings, parking lots and driveways. During rain storms, these impervious surfaces prevent rainfall from soaking into the soil. Instead, this stormwater drains into manmade drainage systems consisting of inlets and underground pipes commonly referred to as "storm sewers." These storm sewers are not to be confused with sanitary sewers that transport human and industrial wastewaters to a treatment plant before discharging to surface waters. Stormwater entering storm sewers does not receive any treatment before it enters the Potomac and Anacostia Rivers and Rock Creek. Learn more about why stormwater is a problem.
What do we do about stormwater?
DOEE seeks to reduce stormwater runoff pollution by going beyond the activities required in the District's National Pollution Discharge Elimination System (NPDES) Permit – more commonly referred to as a Municipal Separate Storm Sewer System (or MS4) Permit. The Stormwater Management Division of the Natural Resources Division within DOEE is responsible for managing the most recent District NPDES Permit [PDF]. DOEE initially assumed responsibility for the District's stormwater administration in February 2007, and now has in place a vigorous stormwater program as overseen by the Stormwater Division in conjunction with all its sister agencies. You may also consult the District's Stormwater Guidebook , and the most recent MS4 Annual Report. DOEE works together with its sister agencies in two group settings: both the Stormwater Advisory Panel (a groups of all agency Directors, City Administrator); and the Technical Working Group who meets monthly to keep current on activities that effectively reduce stormwater throughout the City.
How do we do it?
As an environmental initiative to reduce stormwater runoff, the Department of Energy and Environment has created its RiverSmart Programs which provide District property owners with financial and technical incentives to install stormwater retrofit practices in their houses, schools, and neighborhoods.
DOEE also offers DC residents with resources to learn more about how they can help to achieve an Eco-Friendly Living  in the District.