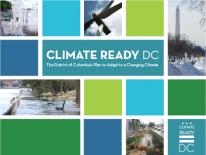 Climate Ready DC: The District of Columbia's Plan to Adapt to a Changing Climate
Climate change adaptation means being prepared for a changing climate by taking action today to reduce the potential impacts of climate change to people, buildings, and infrastructure. While the District does its part to reduce greenhouse gas emissions, we are already seeing the impacts of climate change due to historic carbon emissions.
Climate Ready DC is the District's strategy to make our city more resilient to future climate change. It is based on the best available climate science and was developed through consultation with leading experts within and outside of the District government.
Read the Climate Ready DC Plan (also attached below).
Read the supporting technical reports:
Additional Climate Adaptation Resources
Affordable Housing Resilience Assessment Tool
In FY18, DOEE awarded a grant using funds from the Renewable Energy Development Fund to create an analysis tool to determine the climate resilience of the District's affordable housing stock and to gauge the potential for solar and battery storage to help address the problem. The grantees, Enterprise Community Partners, New Ecology and the National Housing Trust, developed an analysis tool and tested it on 20 affordable housing properties across the District. The tool is now available for public use, while the grant has been extended in FY19 to develop a training and engagement plan.