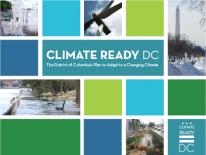 The District is already experiencing the impacts of climate change. Climate change refers to long-term changes in global temperature, precipitation, wind patterns, and other aspects of climate. These global changes have serious consequences for the District. In the past few years, the District has seen record-breaking extreme weather (like heat waves and snowstorms), higher tides caused by rising sea level, heavy rains and flooding, and warmer average temperatures and two to three times as many dangerously hot days.
Climate Ready DC is the District's plan to adapt to a changing climate. While the District is doing its part to reduce greenhouse gas emissions, we are already seeing the impacts of climate change. Climate adaptation means taking action today to prepare people, homes, communities, businesses and infrastructure for the potential impacts of climate change.
Climate Ready by 2050
In 2020 the District identified the steps to take in the near term to address the most urgent risks we face in a changing climate. The Climate Ready by 2050 strategy outlines how we will regularly track progress toward achieving our ambitious but essential goal to be climate resilient by 2050.
Keep Cool DC
Keep Cool DC is the District's extreme heat adaptation strategy. Extreme heat is a dangerous hazard that can pose serious health risks to people and is the leading cause of climate-related deaths nationwide. Summer temperatures are projected to continue increasing in years to come, so it is critical for the District to "keep cool" by reducing the drivers that increase temperatures and expanding strategies that protect residents from heat.
Resilient Design Guidelines
In 2021 the District released Resilient Design Guidelines. This document provides a methodology for assessing the vulnerabilities of existing or proposed buildings and numerous best practices to reduce risks.
Affordable Housing Resilience and Solar Assessment Tool
In 2019 DOEE created a tool to assess climate hazards to the District's affordable housing stock and to gauge the potential for solar and battery storage. Enterprise Community Partners, New Ecology and the National Housing Trust developed an analysis tool and tested it on 20 affordable housing properties across the District. The tool is now available for public use:
Other Climate Adaptation Efforts