<< Back to Get RiverSmart main page
Overview | Features | Apply | Eligibility | Rebates | Benefits | Maintenance


When it rains on areas that don't allow water to soak into the ground, that creates "stormwater runoff." Stormwater runoff picks up pollution and carries it to our rivers. Pollutants like litter, fertilizers, pet waste, and sediment damage our local rivers.
RiverSmart Homes can help install features that reduce stormwater runoff. We help install approximately 1,500 features on residential properties each year. That includes rain barrels, trees, and native plant gardens, and removing hard surfaces. Since 2009 DOEE has helped install more than 20,000 features. The US EPAs Chesapeake Bay Implementation Grant funds this program.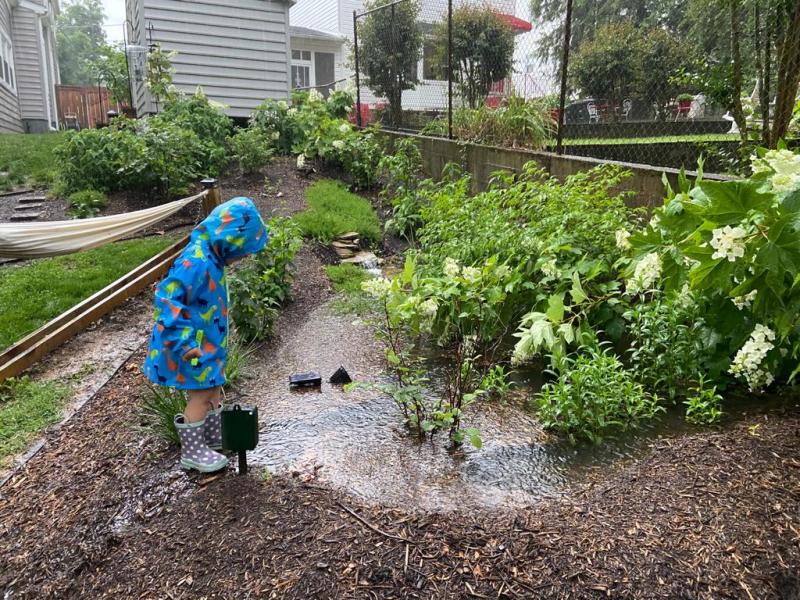 We promote equity through an Ambassador Program. Ambassadors focus on outreach and engagement in Wards 7 and 8. We are prioritizing assessments and installations in our underserved neighborhoods.
Helpful Links:
- Online application
- Program Details
- RiverSmart Rebates
- RiverSmart Homes StoryMap
- FAQs
RiverSmart Homes offers five different features that help reduce stormwater runoff from a property. Participants receive a free stormwater audit, which determines their eligibility for the following :
You will then be added to a waitlist for an audit. Once at the top of the waitlist, a DOEE auditor will reach out to schedule an audit of your property. The audit will determine which features RiverSmart Homes can offer your property.
Who is NOT Eligible for RiverSmart Homes?
Large property complexes such as apartments, condominiums, and offices are currently not eligible for RiverSmart Homes. These properties should consider participating in RiverSmart Communities or RiverSmart Rebates.
Homes that have already received all the features they qualify for are not eligible for additional funding.
RiverSmart Homes offers rebates to residents who install their own rain barrels, shade trees or rain gardens or convert impervious surfaces into permeable pavers or vegetation. Learn more about RiverSmart Rebates,
Benefits of RiverSmart Homes
RiverSmart Homes benefits residents and the environment, by:
Providing beautiful landscaping for properties
Cost savings on water and electricity
Reducing heating and cooling bills
Preventing stormwater runoff from adding pollution to our waterways
Helping to stabilize slopes and prevent erosion
Providing increased habitat for native wildlife
Reducing air pollution
Maintaining RiverSmart Homes Features
If you are already a RiverSmart Homes participant and would like information on how to properly maintain your features, please visit RiverSmartHomes.org
RiverSmart Homes Educational Videos: