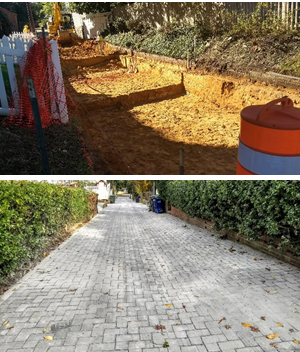 << Back to Clean Water Construction Grant Program main page
CWC Project Sites
To date, the CWC Program has directed funding to 31 projects for the implementation of 6 green roofs; 23 roadway retrofits, including 7 watershed-wide sites; 23 schoolyard and parkland green infrastructure retrofits; pollution prevention and stormwater treatment at 2 trash transfer stations; 7 stream and/or outfall restoration projects; 11 cutting-edge nutrient removal facilities at Blue Plains Wastewater Treatment Plant; 4 other sewage infrastructure projects; and 4 citywide projects. Projects are displayed in the map below and in the subsequent table.

Click on the double arrow at the top of the map to view the legend. Click on any point to read about the project.
DOEE Projects Green & Grey Infrastructure

CWC Grant & Match Contribution

Project Site(s)

Green Infrastructure: Green Roofs

Green Roofs

$1,956,300

RiverSmart Homes

$600,000

Green Infrastructure: Roadway Retrofits

19th Street Green Streets

$1,203,333

Alger Park Upland LIDs

$2,925,848

Dix Street Green Infrastructure Project

$1,706,967

Green Alleys

$4,015,811

Green Infrastructure Enhancements (Tree Planting in Public Space) & Impervious Surface Removal

$7,460,879

Green Infrastructure Right of Way Retrofit

$1,253,907

Klingle Trail Watershed Green Streets

$1,458,090

Low Impact Development Retrofits in the Public Right of Way

$1,380,085

Oregon Avenue Watershed Green Streets

$2,893,808

Oxon Run Green Streets

$977,335

Green Infrastructure: School/Parkland Retrofit

Schoolyard and Parkland Stormwater Retrofits

$4,277,273

RiverSmart Schools

Parklands

Green Infrastructure: Stream/Outfall Restoration

Alger Park Stream Restoration

$935,000

Broad Branch Stream Restoration

$800,000

District Stormwater Outfall Restoration

$3,239,000

Fort Dupont Stream and Wetland Restoration

$1,000,000

Nash Run Stream Restoration

$1,243,699

Grey Infrastructure: Pollution Prevention

Trash Transfer Station Improvements

$2,135,000

Total Funding for Green & Grey Infrastructure Projects 2011-2018

$42,182,470
Descriptions of the four citywide CWC-funded projects follow:
Green Infrastructure Enhancements and Impervious Surface Removal – This project supports the District's Urban Forestry Division's program to maximize the water quality benefits provided by street trees in the District by installing new tree boxes, planting trees in empty tree boxes, and protecting mature trees by replacing their impervious surroundings with pervious asphalt that allows rainwater infiltration to tree roots.
Large Parcel Canopy Tree Planting – This project helps the District meet its 40% tree canopy goal by planting large canopy trees on District properties that can support dense plantings.
RiverSmart Homes Program (supplementary funding) – This program provides homeowners with rebates to install their own trees, rain barrels, or rain gardens or remove impervious surfaces from their property and replace it with permeable pavers and/or vegetation to promote the infiltration of stormwater.
Citywide sewer rehabilitations – This project rehabilitated sewer mains in key locations throughout the District.
| | | |
| --- | --- | --- |
| DC Water Projects Sewage Infrastructure | CWC Grant Contribution | Project Type |
| Additional Chemical Systems | $317,435 | Nutrient Removal |
| Additional Dewatering Facilities | $453,064 | Nutrient Removal |
| Anacostia Combined Sewer Separation | $1,104,465 | Sewer Upgrade |
| Area Substation Upgrades | $3,626,566 | Nutrient Removal & Resource/Energy Efficiency |
| Biological Sludge Thickening Facility Rehabilitation | $7,733,038 | Nutrient Removal |
| Enhanced Nitrogen Removal Facilities | $23,134,428 | Nutrient Removal |
| Filtration and Disinfection Facility Upgrades | $6,622,658 | Nutrient Removal & Resource/Energy Efficiency |
| Filtration Treatment Facility Upgrade | $10,591,359 | Nutrient Removal & Resource/Energy Efficiency |
| Gravity Thickener Upgrades Project | $8,303,091 | Nutrient Removal |
| Influent Screen Facilities & Grit Chamber Facility Upgrade | $2,049,621 | Pollution Prevention (Removal of Solids from Overflow) |
| Nitrification/Denitrification Facilities Upgrades | $28,812,918 | Nutrient Removal |
| Raw Wastewater Pump Station Upgrades | $2,109,191 | Nutrient Removal & Resource/Energy Efficiency |
| Rock Creek Combined Sewer Separation | $1,508,835 | Sewer Upgrade |
| Secondary Treatment Facilities Upgrade | $871,104 | Nutrient Removal |
| Sewer Rehabilitations | $3,660,131 | Sewer Rehabilitation |
| Tide Gate Improvements | $621,552 | Flood Control |
| Watts Branch Sewer Rehabilitation | $680,511 | Sewer Rehabilitation |
| Total Federal Funding for Sewage Infrastructure Projects 2007-2019 | $102,199,967 | |